Strings for Peace: Amaan & Ayaan Ali Bangash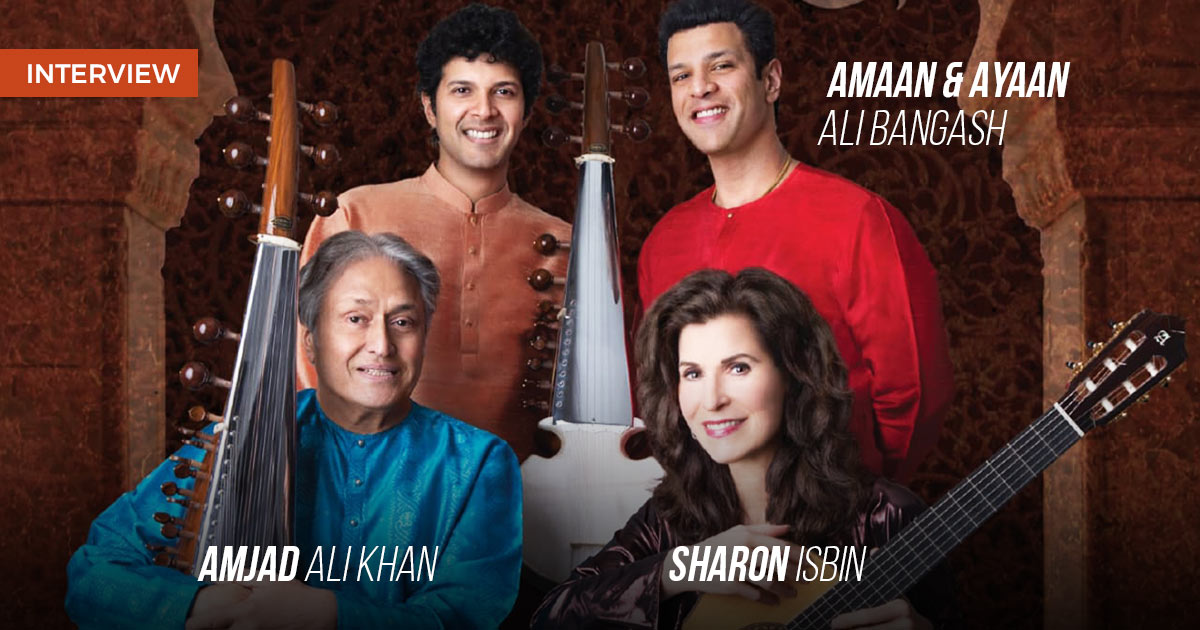 Amaan & Ayaan Ali Bangash have learnt the intricacies of music from their father and Sarod Maestro, Amjad Ali Khan, with whom they share a very special bond. Catch them in an exclusive interview with Talentown as they talk about their latest album.
How did you come up with the name Strings for Peace for your new album?
Amaan: We feel honoured to collaborate with Sharon who is so creative, artistic, and enthusiastic. We are sure when one hears the album, the intricacy of every beat and rhythm will be felt and one will be transported to a different consciousness. I have always felt that this collaboration is about letting go of what we are best at and more about getting the best out of the other person.
Ayaan: Strings for Peace, I believe is extremely relevant. Especially in the wake of a pandemic. We have known Sharon for a decade and began to work together only last year. It is difficult to create fusion as it is a marriage of different cultures and it takes a lot of time for the perfect harmony. When we started out, little did we know that this creation will come to fruition at a time when humanity will need to consider meditation and contemplation more than ever. I have always valued the western world for their discipline, tradition, conduct, and sensitivity. Like cosmic divinity, music knows few barriers or boundaries. I have always admired and enjoyed listening to European classical musicians like Beethoven, Bach, Brahms, Russia's Tchaikovsky.
How was your experience working with Sharon Isbin? Was it challenging to bring the two instruments together for this fusion?
Amaan: Taking the beliefs of the artists that the discourse between instruments is a kind of meditative exploration of sonorous divinity. The idea was to bring the spirit of sharing the great unique treasures of their artistic traditions, as well as finding common ground in Ragas and Medieval modes. We tried to achieve a cross-fertilization of two classical music traditions, which are often held to be radically different.
Ayaan: Through this collaboration, the aim is to preserve the essence of both Indian and western traditions so they can flow into each other without artistic compromise. The Sarod and Guitar come from a common family of stringed instruments, however, Sarod is a fretless string instrument played with the fingernails while Guitar is a stringed musical instrument, usually with a fretted fingerboard and 6 strings, played with the fingers or a plectrum (Guitar pick).
Concerts are completely on hold these days due to the pandemic. What are your thoughts on its impact on the music industry?
Amaan: Like all industries, the music industry, too, has been hit very badly by the pandemic as large congregations are impossible now. Many concerts and projects have all been invariably postponed so it has been a big blow, however, better to be safe than sorry. Many artists all over the world are out of work who have been associated with institutions.
Ayaan: Our salutations to all the doctors, nurses, and front line workers who are doing such a great job round the clock. Sponsored digital concerts will be something in demand at least for the coming months. Music should be a way of life so you are always ready for something. Though the nature of classical music is magical in its impact only in a concert hall, however, it's an interval on the planet so I'm sure that our second half will be more magical and breathtaking, God willing.
How would you describe your relationship with your father and Guru Ustad Amjad Ali Khan?
Amaan: The relationship with our father was more Father-Son than Guru-Student initially. Of course, the change in role from guru to father and back to guru is somewhat effortless; however, it is a relationship between two people, like Batman and Bruce Wayne! He has been the most patient teacher and the most loving father. Abba's teaching and philosophy are beyond music. It's a way of life.
Ayaan: The mantra taught by our parents has been to be a good human being first. Good music will follow. Music is who we are and our nature reflects in our music. All I can say is that it's a complete privilege to be the older son of a monumental icon. I have never figured out kids of famous fathers getting rebellious on account of whose sons or daughters they are. Parents are like Gods, cherish them, and serve them.
Amaan: It did take me time to draw the line as to when he was a father and when he was a guru. This realisation obviously happened as I grew older. I feel ecstatic to think and realise from time to time that my guru is my father. As a classical musician, music for me was not just a profession but a complete way of life. Abba is an old-timer with regards to many things. For one, even though he is a dear friend to me, a certain protocol in the relationship is always maintained.
Ayaan: Abba is God-loving and a very religious person, however, his religion is music. His intuitions are scary; in fact, it's indeed very surreal at times. He is most of the time correct about what he believes in. A complete humanitarian, Abba would pray to the almighty, as he passes by any hospital, that may the people inside be cured of their distresses and sufferings. Some of Abba's very common musings are 'Have patience and tolerance', 'We make our future in this world' and 'God is within us.' A pioneer who lives by his principles both on and off the stage!