Kota Factory: Casting for a class act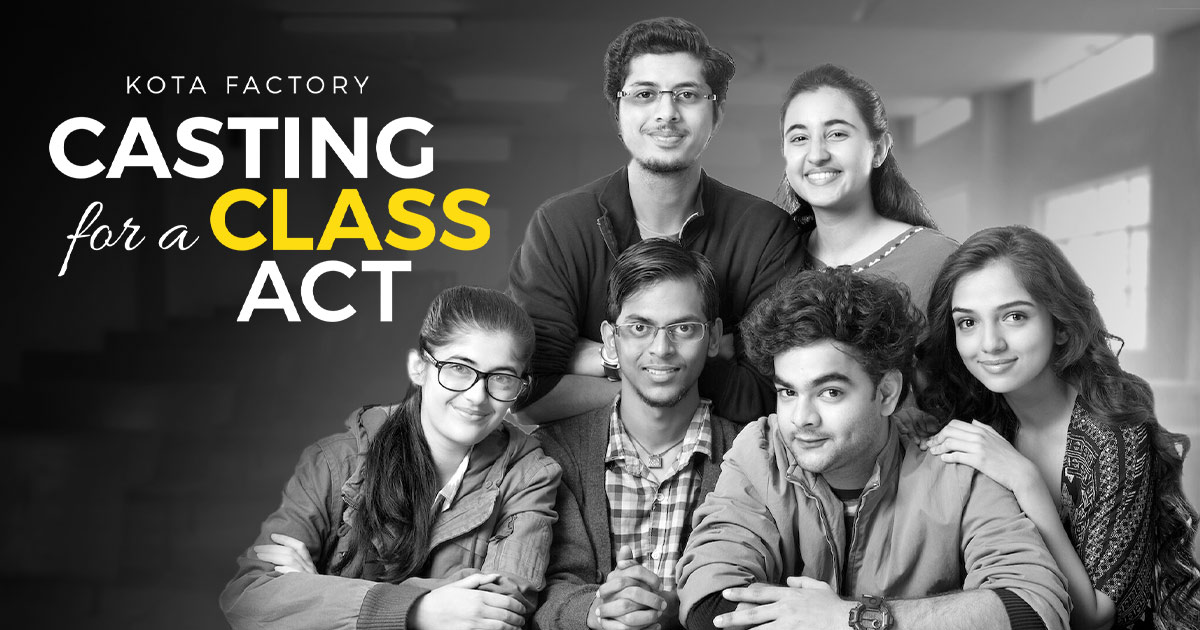 When the makers of Kota Factory – The Viral Fever (TVF) – set out to sketch the lives of IIT aspirants in the coaching capital of the country, they surprisingly but fittingly opted for a monochrome palette. The educational ecosystem of Kota does operate like a factory – life is colourless and follows a set pattern, coaching centres have a uniform, aspirants shuttle between their classes and dormitories, squeezing in a few minutes here and there for a quick bite or to pursue an adolescent romance. The team of TVF is known for their innovative content ideas portraying youth in modern India. Kota Factory is rooted in realism and the choice of cast plays a vital role in keeping the narrative true to its ambitions.
Jitendra Kumar's versatility and comic timing have already earned him an abundant amount of love, and being an ex-IITian – correction – an IITian himself, he finds an instant connection with the material of the show. He is an obvious choice to play the cool teacher/mentor/guide Jeetu Bhaiyya who receives utmost respect from his students.  "Aaj ke time me jis teacher ki izzat bacche karen, aise teacher kam dikhte hain", says the head of Maheshwari Classes. Jitendra is effortless, charming, and authentic.
At the heart of the story are these aspirants, the teenagers, who take us on a ride through the joys and challenges of life in Kota. The protagonist Vaibhav, played by Mayur More, is one of the over 1,50,000 students who flock to the city every year to prepare for the JEE. Vaibhav begins his journey adjusting to a demanding and sometimes overwhelming way of life. Mayur More has earlier appeared in Lipstick Under My Burkha (2016) and Little Things (2019).
Balmukund Meena, played by Ranjan Raj, is the sincere nerd who becomes a close friend and confidante of Vaibhav. Meena has got it all figured out in terms of preparation ritual and is religiously committed to his goal with single-minded devotion. Ranjan has previously made appearances in Rustom (2016), Chhichhore (2019) and Hostel Daze (2019).
Uday Gupta, played by the versatile Alam Khan, is the slacker friend every gang needs. In the high-pressure environment, Uday is a much-needed dose of laughter. Alam Khan has played some memorable roles in the past, notably in Laakhon Mein Ek (2017) and Chaman Bahaar (2020).
Ahsaas Channa plays the bubbly and outgoing Shivangi who speaks her mind and loves to take it easy. Revathi Pillai as Vartika and Urvi Singh as Meenal justify their characters with conviction. Meenal is the geeky first-bencher and Vartika is a quiet, girl-next-door who battles self-doubt and harbours a romantic interest in Vaibhav.
Kota Factory is currently streaming on Netflix.
Speaking about season 2 of the series, director Raghav Subbu said, "As a director, I try to create stories that inspire and enthrall audiences throughout. Season 2 of Kota Factory will chronicle the journey of students at Kota and the struggles they face on a daily basis, which will make it more engaging and realistic. The compelling story and spectacular performances will keep the audience intrigued. I'm really excited to share the epic content with the diverse audience of Netflix."
Tanya Bami, Director, International Originals, Netflix India, said, "We are excited to bring back the favourite characters, Vaibhav, Uday, Shivangi, Meena and Jeetu Bhaiyya in the second season of Kota Factory on Netflix. Just like the previous season, this season too is rich with authenticity and relatability of college life, the choices and struggles of the youth not just in Kota, but everywhere in the country."
Producer – Arunabh Kumar, The Viral Fever
Director – Raghav Subbu
Showrunner – Raghav Subbu, Shreyansh Pandey
Writers – Saurabh Khanna, Abhishek Yadav, Puneet Batra, Manoj Kalwani
Cast – Jitendra Kumar, Mayur More, Ranjan Raj, Alam Khan, Ahsaas Channa, Revathi Pillai, Urvi Singh
Supervising Producer – Shivani Sinha
Creative Producer – Prerna Sharma