Riding the OTT wave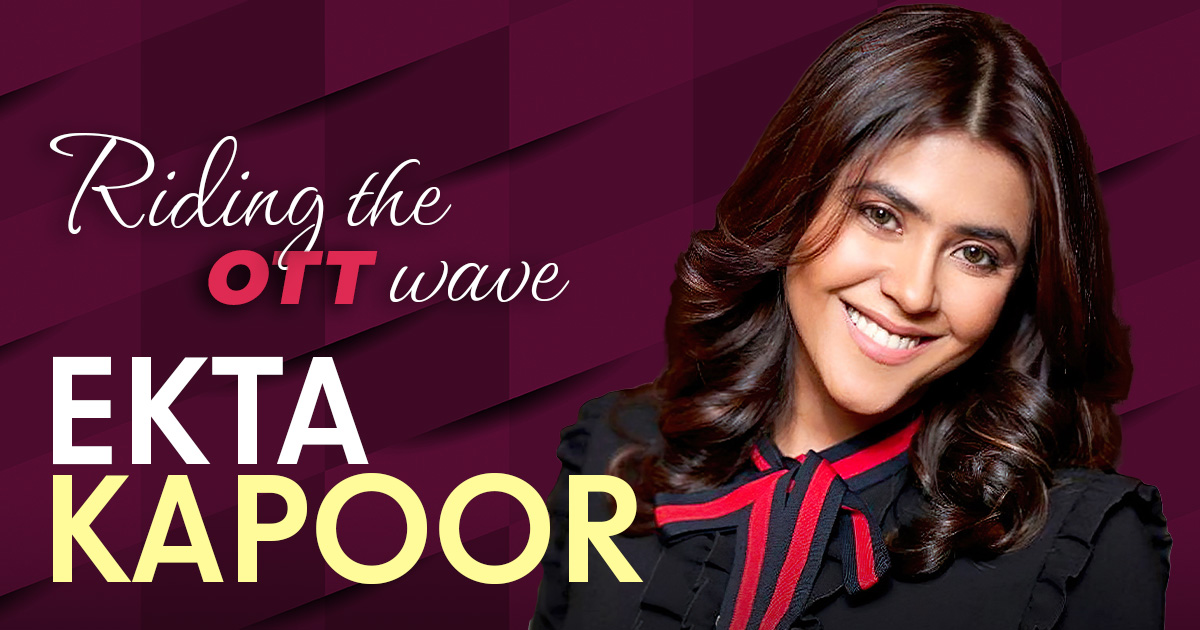 2021 has been quite a whirlwind of a year for everyone, including ALTBalaji. While audience was confined within the four walls of their houses in this pandemic, India's homegrown OTT platform ALTBalaji, led by the inimitable Ekta Kapoor, found a way to be consistent with its releases and kept the audiences entertained. Having launched 89+ Originals since its inception, ALTBalaji has been a pioneer in creating exclusive content. In the year 2021 alone, ALTBalaji launched 20 shows spanning multiple genres ensuring there is something for everyone's taste. With the mass-engaging content to the most riveting shows, the platform has emerged as the fastest growing and most talked-about OTT platforms in India. All this while most of the productions were off the floor.
The success of ALTBalaji seems to be growing every year along with the quality of its content. An outstanding yet unconventional lineup of shows like The Test Case 2, Mentalhood Season 2, Apharan 2, Bois Locker Room, #Hashtagwarrs and various other brilliant shows are on their way, ALTBalaji will continue to entertain its viewers by launching almost 25-30 shows in the upcoming year.
Here is a list of some of the headline creating shows from the past year on the platform:
Bang Baang
Bang Baang is a visual spectacle for the quintessential action cinema lovers and keeps the viewers glued to their seats. The web series involves mystery, suspense, action, and youth drama amidst deep-lying secrets that unravel one by one.
Cast: Faisal Shaikh (Mr. Faisu), Ruhi Singh, Aayam Mehta, Aman Gandotra, Gurpreet Bedi
Hello Jee
The story is about a group of women who find and lean on each other for support when life brings them down. They grow in strength when they unite and set up a phone dating business together to help realise their dreams. This unconventional and brave show is a lesson for everyone on acceptance and love for fellow human beings.
Cast: Nyra Banerjee, Mrinalini Tyagi, Akshaya Shetty, Kashish Rai, Dipali Sharma and Rahul Verma
Dev DD 2
As a 20th-century girl, Devika doesn't choose to fit into the already designed societal mould. She instead creates one for herself working towards making the world a better place in her own crazy, adorable way along with her loved ones.
Cast: Asheema Vardaan, Sanjay Suri, Nauheed Cyrusi, Aman Uppal, Rashmi Agdekar, Suneel Sinha and Deepika Amin Deshpande.
LSD – Love, Scandal and Doctors
The series opens people's eyes to the fact that everyone can make mistakes. This happens through the portrayal of five medical interns and the rest of the KMRC hospital residents when one of the patients is murdered. The interns are also hell-bent on getting ahead of each other in their careers through any means possible.
Cast: Rahul Dev, Punit J Pathak, Ishaan A Khanna, Tanaya Sachdeva, Siddharth Menon, Srishti Ganguli Rindani, Ayush Shrivastava, Neha Hinge and Pulkit Makol
Crashh
Crashh revolves around the story four siblings whose parents died in a road accident. They are then taken into an on orphanage and later adopted by separate families. All except the oldest, who was never adopted and grew up to become a police officer. When the pain of separation is too much for him. He decides to go on a mission to find his siblings and encounters roadblocks and obstacles while he searches for them.
Cast: Zain Imam, Rohan Mehra, Aditi Sharma, Kunj Anand and Anushka Sen
The Married Woman
This urban relationship drama is the pride of the nation, still trending long after its release. The story centers around two beautiful women Astha and Peeplika. Astha is a beautiful person, but the full force of who she is, is chained because of society's pressures until she meets Aijaz and Peeplika, who give her an entirely different perspective on life.
Cast: Ridhi Dogra, Monica Dogra, Suhaas Ahuja and Imaad Shah
Bekaaboo – Season 2
ALTBalaji's psycho-thriller Bekaaboo 2, is a story of revenge and obsession. Anaysha, the protagonist, is a bestselling author whose overnight rise to stardom changes her drastically and her new attitude earns her enemies all over the place. There are times when she is the hunter, destroying everyone's lives and other times she is the hunted.
Cast: Subha Rajput, Taher Shabbir, Priya Banerjee, Poulomi Das, Taha Shah Badussha, Tusharr Khanna, and Smaran Sahu
Broken But Beautiful 3
Broken But Beautiful 3 is the love story of Agastya & Rumi. Agastya Rao, who is an aspiring director, falls in love with Rumi Desai, his muse. The series showcases the ups and downs in their relationship where the obsession never ends but rather shifts. And as they say, it is more difficult to fall out of love than in love, and this very thought is what makes the story so very relatable
Cast: Sidharth Shukla, Sonia Rathee, Ehan Bhat, Saloni Khanna and Taniya Kalrra
Puncch Beat Season 2
Puncch Beat 2 is the sequel to the hit youth boxing drama Puncch Beat that released in 2019. The show centers on college, teen drama and also a murder mystery in the second season.
Cast: Priyank Sharma, Siddharth Sharma, Khushi Joshi, Harshita Gaur, Samyuktha Hegde, Kajol Tyagi, Nikhil Bhambri, Samir Soni, and Niki Aneja Walia
Cartel
Cartel is ALTBalaji's latest action-drama which has become a massive success. With 137 actors, the show has quickly become a fan favorite and continues to receive love from both the fans as well as critics. Set in present-day Mumbai, the show is based around the Angre family, whose fate changes after an unexpected attack on their house.
Cast: Rithvik Dhanjani, Tanuj Virwani, Jitendra Joshi, Supriya Pathak, Pranati Rai Prakash, Divya Agarwal, Girija Oak Godbole, Amey Wagh, Monica Dogra,  andTannishtha Chatterjee
Girgit
The story is set in Himachal Pradesh, with Ranbir Khetan as the protagonist. What happens when Ranbir (Nakul Roshan Sahdev) gets embroiled in the murder case of his beloved wife Jahnvi Khetan? While Ranbir tries to prove his innocence as he is set to marry another girl (Ashmita Jaggi), a foul-mouthed cop Rathod (Samir Vermani), is hell-bent on proving him guilty. In the midst of these, two con girls (Taniya Kalrra and Trupti Khamkar) get involved in Ranbir's life. How a concoction of human emotions spills out in this crooked story, is the basic premise and idea behind Girgit.
Cast: Nakul Roshan Sahdev, Taniya Kalra, Trupti Khamkar, Shahwar Ali, Samar Vermani, and Ashmita Jaggi