Tulsi Kumar: We were kept grounded and away from the limelight as children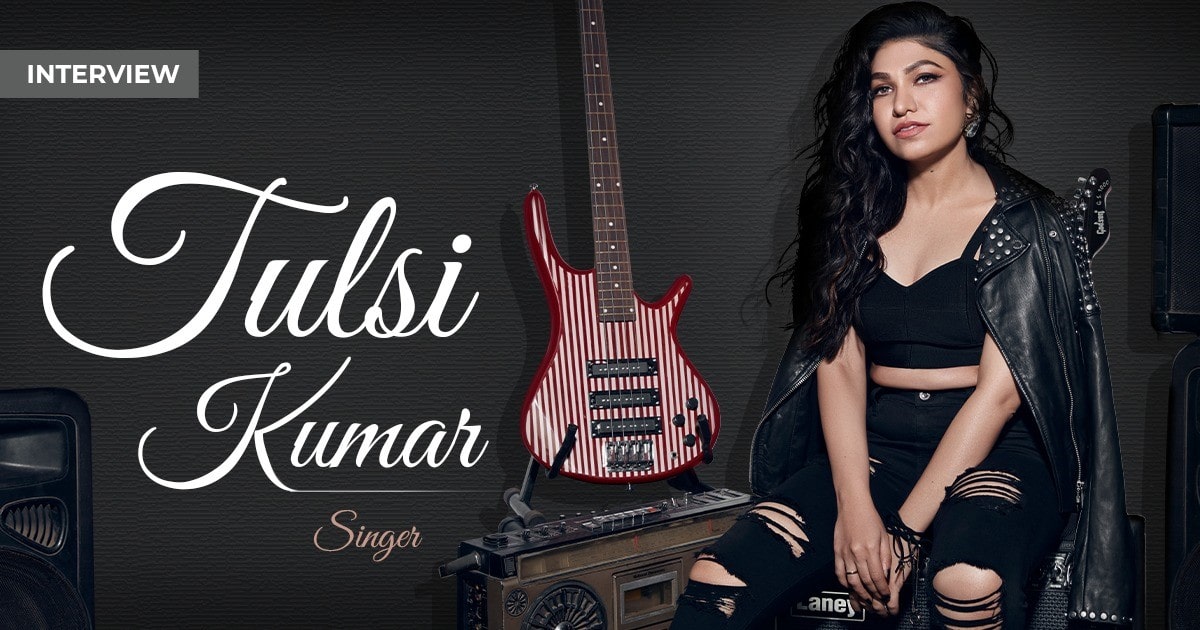 Born and brought up in a family that owned India's top music company, Tulsi Kumar went on to carve an identity of her own as a popular singer in Bollywood. In an exclusive interview with Talentown, Tulsi Kumar talks about her childhood, her late father, and her music.
You grew up in a family that owned one of the most influential companies in the Indian entertainment industry. What was your childhood like?
Honestly, my childhood was extremely normal and very simple. My parents kept me grounded right from the beginning. I have grown up seeing my mom and dad starting their day with a visit to the temple and those are the kinds of values they instilled in me, my brother Bhushan, and my sister Khushali. We were always kept away from the limelight as children. I had a special interest in music and performing arts and I used to sing a lot as a child. I was very shy so I never sang in front of my father but he used to overhear me from outside the room. One day he asked me if I wanted to learn music and join classes and I was very happy to hear that. That's how I started learning classical music at Suresh Wadekar Ji's academy at the age of 6. Later, I continued with Pandit Vinod Mishra Ji for advanced music lessons.
You have lent your voice to scores of songs by now, which ones do you consider your personal favourites so far?
It has been over 14 years for me in the industry and I feel very happy that I have got an opportunity to work with so many music composers and sing in various genres. Some of my personal favourites are – 'Soch Na Sake' from Airlift, 'Tum Jo Aaye Zindagi Mein' from Once Upon A Time In Mumbaai, 'Teri Ban Jaungi', and 'Hum Mar Jayenge' from Aashiqui 2. I think these songs have really got me a lot of love.
How do you see the current culture of remixes?
There is a difference between remixes and re-creations. A re-creation is an entirely new song where only the hook line of the original song is retained. I do the kind of music that entertains my audience and the kind of music I feel I can do justice to. All the re-creations I have been a part of have been received with a lot of love. And obviously, in a re-creation you're dealing with an iconic number and it requires a lot of care and attention. It needs to be done correctly without altering the uniqueness of the original.
What kind of influence did your father Gulshan Kumar have on you? Who have you been closest to in your family after him?
My father has had a major influence not only on me but also on the thousands of people he connected with during his time. He was a deeply spiritual and kind-hearted person. He came from nothing with no background in the field of music and single-handedly built India's No.1 music company. He was a self-made man and his passion for his work had a deep influence on me. Despite having a name and background, I still wake up everyday thinking where I want to excel, where I want to improve, and how can I perform better for my audience. To always make my father proud, it's my responsibility to work passionately on my music and do my best. I think the whole family has stood together after my father but I am closest to my mother. I confide with her like a friend and whatever state of mind I am in, I discuss with her.
What are the other activities you are involved in apart from singing?
Lately, I have been concentrating on independent music so creating more songs and conceptualising video concepts for them. T-Series StageWorks Academy is another of my ventures that I look after with my mother. The academy trains the students in performing arts. We are trying to expand the educational wing of T-Series under the name of Gulshan Kumar Film & Television Institute of India (GKFTII) & T-Series StageWorks Academy (TSA). Apart from that I also do a lot of voice-overs for a kids channel called Kids Hut on YouTube.
You have completed and released your latest song 'Tere Naal' during the lockdown. How was it made possible?
This is my first collaboration with Darshan Raval and we started working on the song back in February 2020 and it came in shape in March 2020 just before the lockdown started. I and Darshan finalised the song over phone calls and it was dubbed in our houses in Delhi and Mumbai respectively. We got the song mixed and remastered with everybody working from home and it was a beautiful experience. We shot the video in our respective houses strictly following the social distancing norms with the help of a single person of the team. The result is a beautiful music video that has already crossed millions of views.