Anatomy of online auditions & some myth busters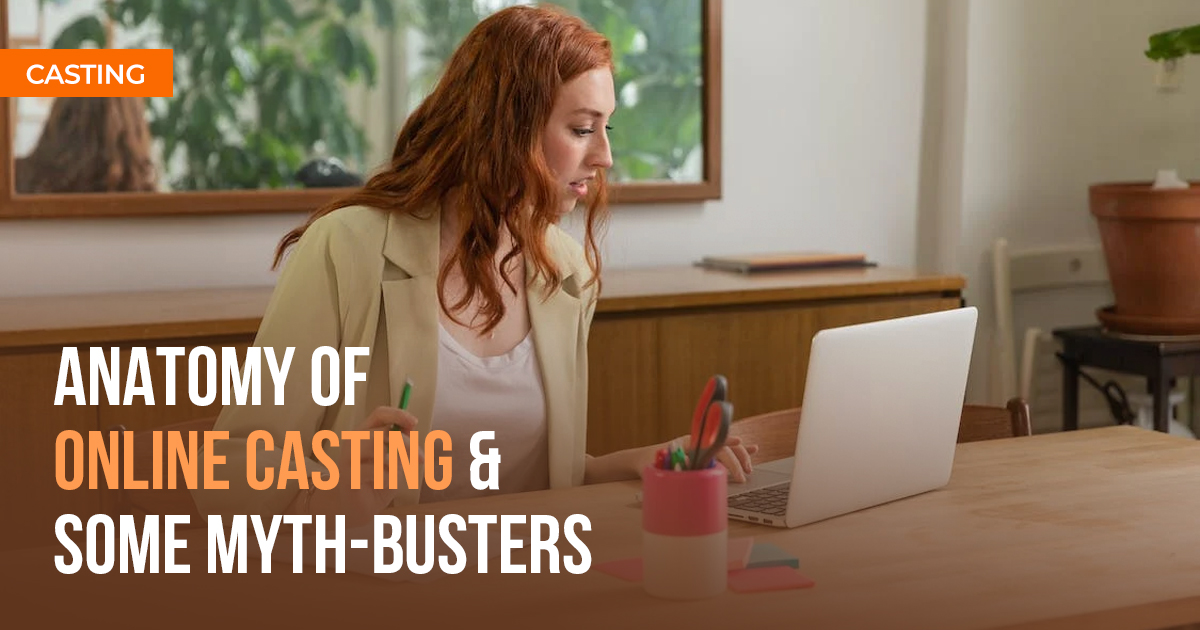 Finding the right talent for your projects can leave you tangled in the extensive course of auditioning & shortlisting procedure. The process becomes even more prolonged when executed in a conventional physical manner.
While technology has benefited the industry in infinite ways, the casting industry is yet to explore the full potential of tech-aided casting. One such example of a tech-aided & efficient recruitment procedure is online casting.
Let's quickly unfold the process of online auditioning & some myth-busters around it!
The Advent of Digital Casting Platforms
Identifying the right talent-hiring partner that fulfils all your recruitment needs is essential for a seamless casting process. Today, India's largest talent-hiring platform, Talentrack, houses a 5,00,000+ strong community of artists from various genres across the nation, enabling 15,000+ top recruiters to choose the best for their projects.
Talentrack's industry-leading tech-aided features allow artists to keep a real-time record of all the projects and help smooth out the shortlisting process for the recruiters. *Register* today to discover a hassle-free casting experience.
Post Requirements, Review Applications, and Shortlist Talent
It's widely evident today that the virtual world allows you to break the barriers of conventional limitations. Start by posting a brief description of the requirements for your upcoming project.
Talentrack's thoughtfully designed job posting feature allows an easy & interactive user experience for enhanced reach and simplified recruitment.
Once your project goes live on the platform, it'll start receiving applications from interested candidates. Start reviewing the applications and shortlist the best fit for your project.
Connect & Audition Online
Artists have their portfolios regularly updated with photoshoots and self-tapes to help simplify the screening process. It's also possible to ask them to use a specific script you'd want them to enact.
Connect with your shortlisted candidates and schedule an online audition. While the conventional practice of physical auditions is lengthy and time-consuming, online auditions prove more time-efficient and cost-effective.
Streamline the Casting Flow
Are you tired of getting tangled within the strings of information? Well, it is natural to mess up information while filtering out multiple artist profiles until you adopt the practice of organising the portfolios into separate folders.
Talentrack's rich My Artist section allows you to manage your data through various customisable folders for different segments of artists.
Now, so you're well-armed with the trade secrets of online auditions, let's bust some commonly known myths about online auditions.
The turnaround time is too high on online talent-hiring platforms.
Online casting opportunities are the most time & cost-efficient options for both recruiters and artists. Talentrack starts pushing notifications about the posted projects to its 5,00,000+ artist database to attract applicants instantly.
Online talent-hiring platforms only have limited options.
Talentrack is India's largest talent-hiring platform that onboards fresh talents & recruiters every minute to ensure the right opportunities for both parties. Talentrack's fast-growing community is the most comprehensive database of leading entertainment professionals in India.
Join the Talentrack community today!
Online job posts attract junk applications.
Talentrack's smart platform ensures that every project reaches the most suitable applicants, reducing the possibilities of junk applications or irrelevant applications.
Social media & other messaging apps yield better results.
Social media and related messaging apps work well for information transfer. However, when it comes to shortlisting & record-keeping, they might land you in a mess of cluttered data.
The entertainment industry is extraordinarily fast-paced, and Talentrack helps eliminate the chaos by creating a vastly accessible and highly organised information medium.
You can really skyrocket your casting business by adapting to the future of casting with Talentrack. Join now!