Sacred Games 2: A punch of crime thriller spiked with unholy faith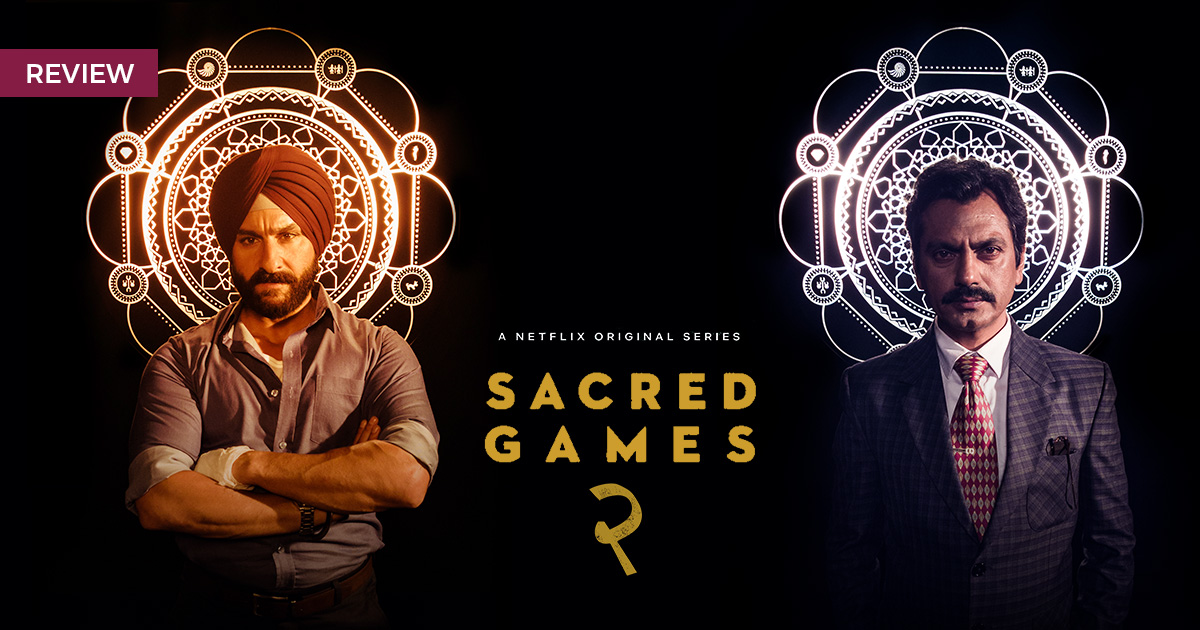 Sacred Games plunges deeper into the darkness of faith as Sartaj's (Saif Ali Khan) race against time to save Mumbai resumes in the Season 2. The world has turned corrupt beyond repair and must be destroyed to restore the golden age of humanity, thus believes the mystic 'Guruji (Pankaj Tripathi)' who takes it upon himself to lead the world to Satyuga, with Gaitonde (Nawazuddin Siddiqui) as his commander, and a cult of followers conspiring for an apocalyptic doom. In modern day Mumbai, Sartaj is tasked to lead the team investigating the terror threat; in 1994, Gaitonde wakes up in a boat in the middle of unknown waters and finds himself left with no choice but to accept Yadav Ma'am's (Amruta Subhash) offer to be a government pawn. He has to become the new crime lord of the coastal city of Mombasa.
Parallel narratives reveal the troubled life of underachiever Sartaj seeking professional validation and transformation of fugitive Gaitonde into a seeker of enlightenment, which he apparently finds in the Ashram, albeit with the help of countless sermons, a red hallucinating substance and godman's unsparing affection. The 'Sacred' side of the plot draws heavily from the life and times of Osho and his aide Ma Anand Sheela. Landscaping beauty, neomodern architecture and sprawling meditation grounds of the Ashram conceal the sinister motives of its inhabitants.
New characters are thrown into the mix and interesting connections emerge as the action gets closer to the climax. Gaitonde is not the only enemy of the state with a history with the Singh family. In the season finale, terrorist Shahid Khan's (Ranvir Shorey) grandmother and Sartaj's mother are seen in an old family portrait from the partition era suggesting a kinship severed by borders.
Gaitonde's no-holds-barred narration and the exchanges with his gang members add comic relief in signature Kashyap style. Though, Guruji's propaganda preaching aimed at radicalising the disciples also appear more comic than influential. It's Pankaj Tripathi's weakest role in recent memory if put in comparison with Sultan Qureshi of Gangs of Wasseypur, Advocate Madhav Mishra of Criminal Justice or Kaleen Bhaiya of Mirzapur. A gangster story set in Mumbai is bound to cross paths with Bollywood, and for a gangster craving mortality and grieving the death of his lover, what could be a better way to instant fame than a cinematic depiction of his adventures with Kukkoo (Kubbra Sait).
Amidst nail-biting tension, crumbling relationships, manipulation and betrayal, the long-distance conversations between Gaitonde and his hot-headed, suicidal, outspoken muse – Jojo (Surveen Chawla), add interesting texture to an otherwise picture of widespread gloom. Even her scornful profanities are music to his ears and she never minces words when holding a mirror to Gaitonde. "You wanted to be a hero, which you are not. You are Gaitonde, and Gaitonde is a villain," Jojo breaks it down for him. And perhaps a villain he was after all, not the Ashwatthama, not the Brahma, not the God he so desperately desired to be.
The season ends seconds (three, to be precise) before we could see the fate of the Mumbai city. Maybe the nuclear expert should not have wasted valuable time and attempts drawing hilariously random unlock patterns.
Photo Credit: Netflix