Tarun Katial: ZEE5 is focusing on subscription-oriented content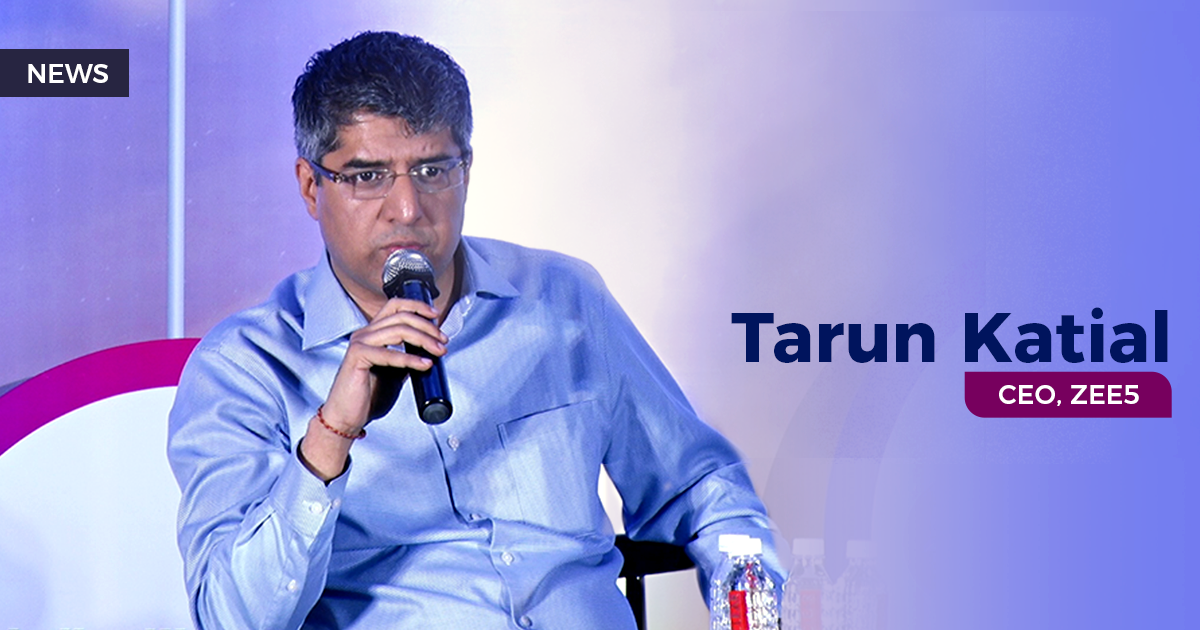 Setting the tone for the Panel Discussion on the subject 'The OTT Wars – Shaping the Future of Digital Entertainment' at Talentrack Awards 2019 in Mumbai, Tarun Katial, CEO, ZEE5 India said, "OTT in India is at an intersection where Content, Technology and Data meet. It is giving the consumer the power and freedom to consume the content at their convenience in different formats and mediums. With the kind of bandwidth available in the country today, mobile content is soon going to become the primary way of entertainment in a large part of the country. It's too early to say what OTT will do to TV and Cinema, as every medium has its own advantages, but, nothing can beat a cinematic experience."
Regional content will play a critical role in the expansion plans of OTT players. "Zee is a company producing vernacular language content. We have created originals not only in Hindi but in Tamil, Telugu, Bengali and Marathi. We do 5-7 series every month. We were told that the Indians don't pay but the way economics of prices has worked in the country, ₹99 or ₹999 are far cheaper options than a movie in a theatre. But, for that small price, the amount and the kind of content the consumer gets, it is huge. Instead of just audience demographics, we have created content for different 'taste clusters' and data gives you enough opportunity to proliferate into a variety of content." Tarun commented explaining Zee's competitive edge.
"Much like Sony and Star, we in the broadcast business, went out and touched the lives of Indian diaspora overseas. NRIs have been consuming Indian content for many decades. Dr. Chandra envisaged Zee to be a global company and Zee has been present in over 50 countries for many years now. With a digital medium, the access to markets becomes much easier. ZEE5 has forayed into 190 countries, and with the kind of content we have, there are no issues of rights. All IPs are owned and it has helped us expand quickly," he added.
AVOD or SVOD, that's the question. "In terms of monetisation, advertising will obviously dominate because it's the low-hanging fruit but the subscription model and B2B & B2C partnerships will be significant revenue streams. Also, it depends upon the proposition, and platforms are continuing to lean towards AVOD. For us it's critical to have SVOD stream too and we will be very active with subscription-oriented content in promotions, offers and partnerships," Tarun revealed.
Sharing ZEE5's production plans, Tarun said, "We have around 50 shows in various stages of production. We scouted talent for a year, and contrary to the popular belief, there was a lot of talent that didn't want to work in TV and Films and was just waiting with some great ideas. Some ideas are not for TV and Films so a lot of scripts were easily available. It didn't take us long to create a content pipeline but it did took us a while in casting. Luckily, there is a lot of talent, many actors good, method actors, waiting for the opportunity. It's a great time to be in the business especially the content business."