A conversation with award-winning anchor & talk specialist – Gitikka Ganju Dhar
Now in her 20th year as a talker, she is sitting pretty in the best phase of her career yet, right at the top and is looking ahead with clarity and looking back with gratitude. Let's talk to India's Talk Specialist – Gitikka Ganju Dhar.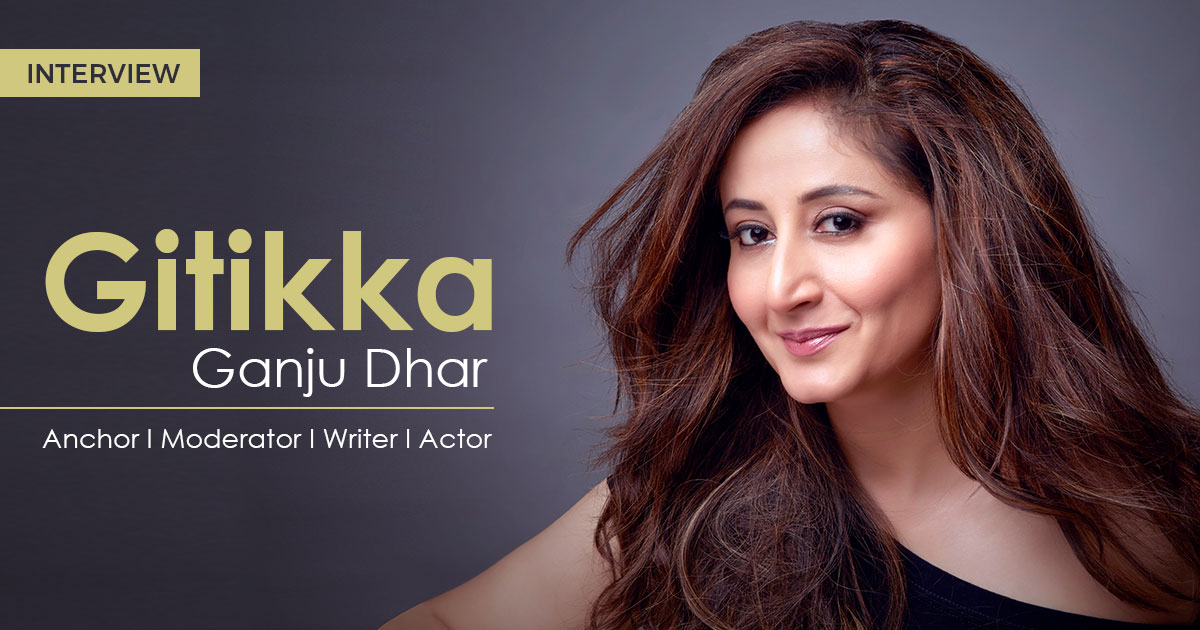 The year has begun well, hasn't it? 
Yes, it has. The nature of projects offered to me from the turn of 2019 was similar. They were all special projects mounted on a large scale. They were all key/flagship projects for the industry segments, states or organisations. They all required the presence of an experienced hand with the skill to curate first-rate content. I am happy with how 2019 has taken off and I am fully aware that I will have to make choices after much deliberation to maintain this texture of my body of work. What I am most buoyant about is the refreshed zeal I feel to raise the bar.
 For the industry that you are in, how important is the talent factor for artists?
Well, people become artists because they recognise an innate talent in their own self, right? That is the way it is ideally supposed to be. But when it comes to many genres of artists, I see a herd mentality taking charge. I see a lack of introspection. Whether one is suited or not, whether one has the required talent or not, new entrants are giving it a shot. To add to the plethora of artists, you now have digital platforms where each and every artist can address the market. By the year 2020, 730 million Indians will have access to the internet. Then, only talent will be the prerequisite and the great differentiator. How will you stand out otherwise!
A natural born leader, your career as an anchor has reached a point where many a tributary flow out to new lands. Is moderation the new goal?
Moderation, as a role in the core live circuit, is in the nascent stages of being defined as a full-fledged career option. We have well-known moderators on the television circuit, and it is largely them only, who are engaged in moderating live panel discussions too. I am looking at putting the spotlight on the live professional moderator, who comes in with all the artillery and gear, well prepared and ready to kill. Someone, who has a team to research and curate a panel discussion, chat show or interview on almost any subject, genre or template. It may take a while to carve this new slot, but I am looking forward to the challenge. Also, I feel it in my bones that this vocation has the potential to take a professional beyond Indian shores.
 You are a mother and an accomplished anchor, a hands-on profession that requires extensive travel. How do you make it work?
It is not a wrong presumption that it is difficult for a hands-on mother to be successful at what she does. More than difficult, it is tiring. I do not remember the last time I put my feet up without a care in the world. But it is a choice we make for ourselves. Yes, I travel. My mother takes over my daughter's care when I travel. My husband pitches in. My father pitches in at times. We make sure she is well taken care of. This is a precondition I have set for myself. Either I work with an assured mind or I do not work. It is difficult, but not impossible.
A social cause that you are most passionate about? 
Educating the girl child, prevention of cruelty to animals, sustainability and the Swachh Bharat Abhiyan.