Saiyami Kher: Travelling helps me enrich my acting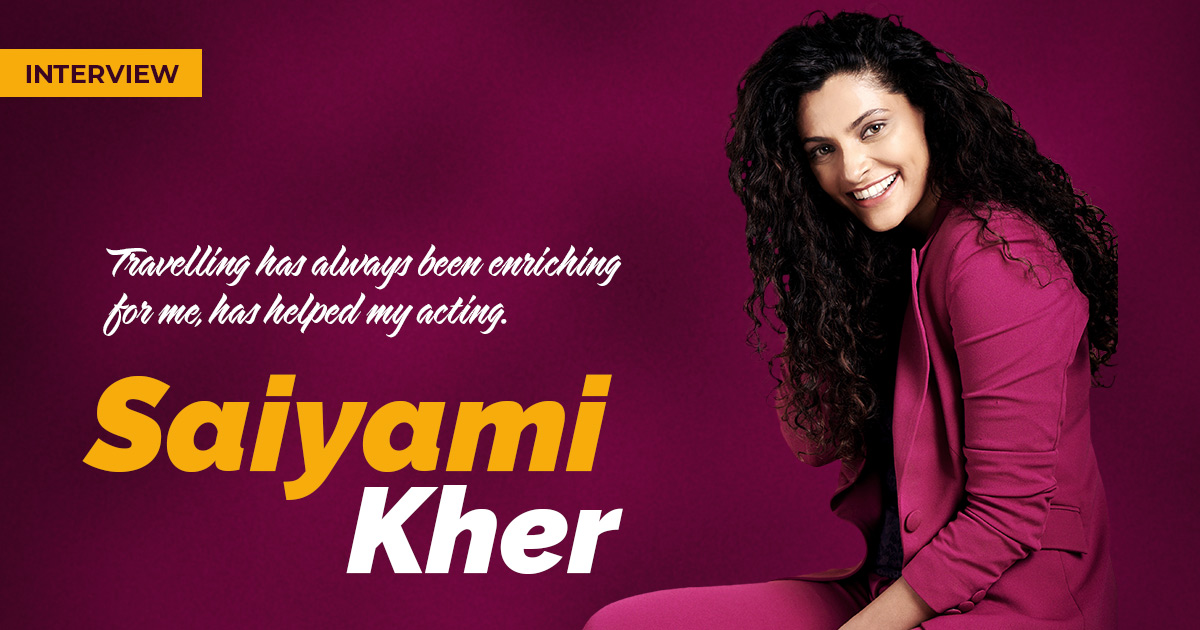 Shattering the screens with charm & finesse of the art she masters, Saiyami has quickly become a household name in the entertainment world with her stunning performances. In an exclusive with Talentown Magazine, Saiyami talks about her journey, experiences, and upcoming projects with a hint of what Saiyami plays off the screen. So without further ado, let's dive into the conversation with Saiyami Kher.
Your latest project, "Breathe: Into the Shadows" has been a screen-shattering hit. Tell us about your experience working on the show and how the overwhelming love from your audience has been treating you.
Breathe will always be the show that's very close to my heart. It happens to be the very first web series that I signed. We started with two seasons, and I'm sad we are done with both. The character was something I had never played before, surely, who plays an escort. It always feels nice when your work is appreciated and loved by your audience. I wish the season continues because it's simply a great team having Amit, Abhishek Bachchan, Nitya, and Mayank, we've all become a family. It was an entirely wonderful experience.
You have contributed to both Bollywood and the Marathi film industry. Do you feel any difference in the approach of acting between the two?
The approach remains the same because the language doesn't really make working on a character any different. Besides the languages, nothing really changes. You have to prep, and you have to have a solid backstory to work on. Telegu is a language that I don't know but the approach as an actor remains the same for creating an arc with your skills.
You mentioned in previous interviews that you are a big fan of travelling. What is your favourite travel destination Does your hectic schedule allow your passion to explore places?
Yes! Travelling has been one of the biggest lessons that have helped me in acting. I see it as an actor's constant learning when you're out and exploring different places and cultures. I always try to make time for travel. I usually like to do one solo trip, one trip with my family, and one with my school friends, so three trips a year is something I can't miss. I also like to squeeze in some sports or activities into my trips like I do some races, or maybe going and watching Wimbledon, or a football game, or a basketball game. I think my favourite travel destination out of India has been Hawaii so far. I've taken surfing lessons in Hawaii. In India, it has to be Laddakh, there's nothing that compares to Spiti & Ladakh in India.
Coming from a family with a strong film background, with your grandmother being a successful actress. Do you feel any added pressure as a result of your family's legacy in the film industry?
My grandmother was an actor who worked in Hindi, Marathi, Gujarati, Tamil, and Telegu Films. No! I don't feel the pressure because she passed away when I was very young. For me, she was always my grandmother. I was fortunate enough to see her work in films like Daag, Bawarchee, Chupke Chupke, and Kabuliwala. For me, I always thought she was very talented and there's no pressure because that's not how I've been brought up. I wish that her genes are passed on to me.
What can we expect to see from you in the future? Are there any upcoming projects that you are particularly excited about?
There are a bunch of projects that I've finished or almost finished shooting. I have a film called Ghoomar, directed by R Balki, which should be my next release. It has Abhishek Bachhan, Shabana Azmi
There's another film with Excel Entertainment called Agni, having Prateek Gandhi, Devyendu, and me. That should release soon as well. I'm finishing off a film that is being produced by Anurag Kashyap and being directed by a new director, which has Gulshan Deviah and me. Besides that, I'm hoping to start something very exciting soon, and also, the second season of Special Ops is something we shall start shooting soon.
Let's take a glimpse into Sayami's personality & preferences with a sizzling rapid-fire round.
What's your go-to comfort food?
My go-to comfort food is chocolate. I can have chocolates any time.
Early bird or night owl?
I am an early bird. I like waking up early.
What's the last show you binge-watched?
I watched The Romantics on Netflix and absolutely loved it because it made me so nostalgic.
What's your favourite thing to do in your free time?
In my free time, I like to either swim, run, or play some sport. I'm always busy playing some sport.
What's the best piece of advice you've ever received?
The best piece of advice I've received is just to be yourself and don't let the world change you because only if you stay original will you stand out of the crowd.