Kubbra Sait: Boredom allows me to think out of the box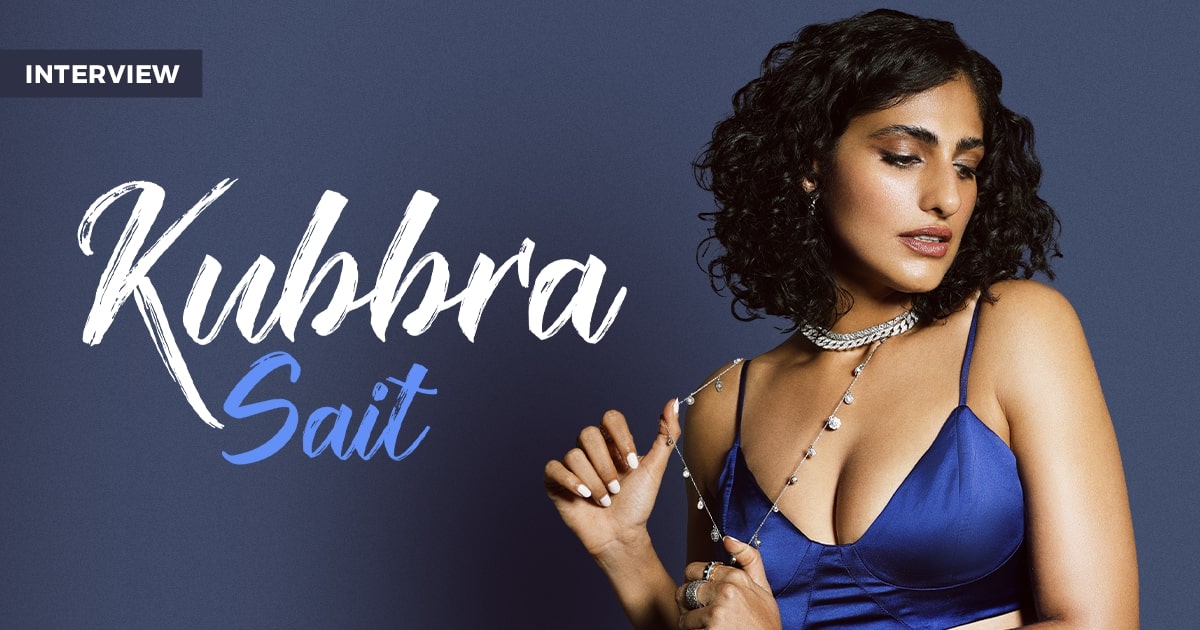 A career course that blends in the rich flavours of corporate, stage hosting, acting, and even literature, all savoured gracefully. The world might have known the model, actress, emcee, and author from the humble Sunaina in Ready to the screen-shattering boldness of Kukoo in Sacred Games. Yet, there's certainly a lot that Kubbra carries gorgeously within her thrown of mastery. In an exclusive with Talentown Magazine, Kubbra Sait speaks about her journey and the surprises she has for her audience in 2023.
From a nine-to-five to owning the stage to glorifying the screens, how has this career contrast helped you grow? Also, how and when did you decide to present your career with the flavour of acting?
There has been an interesting division in my life where I had to decide between responsibilities and self-identity. My nine-to-five job gave me the perspective to understand that I don't want to do that anymore. I also felt that I had a lot more creativity to give to the world than to sit behind a desk and do the same thing every day. Routines get me bored, and boredom is what allows me to think out of the box. As far as hosting is concerned, it's a place where I can be unapologetically myself. I relish the exchange of energies from the live audience, which helped me become the anchor I am. I remember when I got my first job in 2017, called Going Viral, an Amazon Prime project before Sacred Games. It was the first time I discussed a character graph. I discovered where what needs to be and how it needs to play out, and when I saw that, it made me feel how this was kind of an out-of-body experience for me to be someone else. I think it's something that lets me enjoy my acting career.
How was your experience working with the team of Sacred Games? Were there any specific challenges playing a transgender character?
No, I don't think there are challenges playing another human being if you empathise with the character. My experience working with the entire team of Sacred Games was nothing but surreal. I didn't have much time to prepare as I was informed that I would be doing the show on the 26th, and I was shooting on the 30th of the same month. So, I just carried myself, and I think that's the best approach when you're on an Anurag Kashyap set. However, over the years, I've grown up to working on my character before getting on the set with my director. I think my evolution as an actor has been pretty prominent in the last few years.
How was your experience working with the team of Foundation? What's that one thing you'd want to bring back to Bollywood from Hollywood? And vice-versa.
There's a human touch that exists in Bollywood, something that doesn't exist in Hollywood. They're very clear on the clock and we need to do things and move on. There are no favours asked or favours given. Everyone's doing their job. It's something which I feel is a great mix to have between both industries. I've noticed Bollywood doesn't have as much skilled labour as we have in the west. People are completely equipped for something as simple as script supervision. I feel soon we will be able to get that kind of technical prowess in our industry that'll help us enhance the production job.
Working on Foundation was beyond my imagination because I had dreamt of most things in my life, and achieved them. However, I had never dreamt of being a part of such a humongous international project. It was a huge blessing for me during the pandemic.
What was the inspiration behind writing the 'Open Book'?
There was a lot of time on my hand like most of us had during the pandemic, and it wasn't anything special compared to others. I was living my truth. I got a lot of time to introspect and understand who I am and how I reached here. That was an incredible learning for me, and it helped. I also feel that the minute you start having the will to accept yourself for whom you are without having to depend on what people think is the time when you're a step closer to writing your memoir. Most importantly, it's what you learn from the life experiences that you've gone through. It's not just about reflecting and not choosing to make a change because change always happens within.
What was your biggest childhood dream? What advice would you like to give to your younger self?
My biggest childhood dream was to be a cotton candy seller. Something common along the way is not losing the spark with which I look at things. My outlook towards life is very childlike, and I enjoy seeing those little moments come to life.
What advice would I give to my younger self? Well, it's past, like this moment is already passed, so this too shall pass.
If you were to pick one celebrity to join you on a long holiday, who would you pick and why?
I've never been on a holiday with celebrities as we often end up on various work trips. I would love to hang out with Ranvir Singh. He's such an effervescent, and I love that effervescence about him. I also believe there's a side of him that is untapped and quiet. I think we will have a very meaningful conversation.
I'm someone who goes on a lot of solo trips, so if we don't like each other, then maybe we can just go our separate ways too.
What is your advice to people starting their careers in the industry? What they should be most watchful about?
My first piece of advice is to ask you not to listen to others' advice. Others' advice always comes from their lived truth. If you're doing this for the first time, you should always have the experiences that you learnt from. It takes a lot of hard work, so do the hard work, mix it with the market intelligence and the information you have, and learn how to create opportunities when they're not coming to you.
What projects are you working on currently? What new stories are set to reveal in 2023?
Okay, so I am tooting my own horn and saying this exclusively to you, Talentown. The year 2023 is going to be the blowout of Kubbra Sait. I have had the opportunity to work with the most brilliant & profound minds and architects of storytelling in this industry. There are four incredible projects that I have worked on this year. I also have a brand-new project starting next year. To name a few, I have Farzi, Good Wife, Lakhota, and a lot of cool stuff coming. If you've been putting your head down and looking away from Kubbra Sait, I'm gonna make you take notice this year.