Isha Talwar: The bridge between talent & studios remains in need of substantial improvement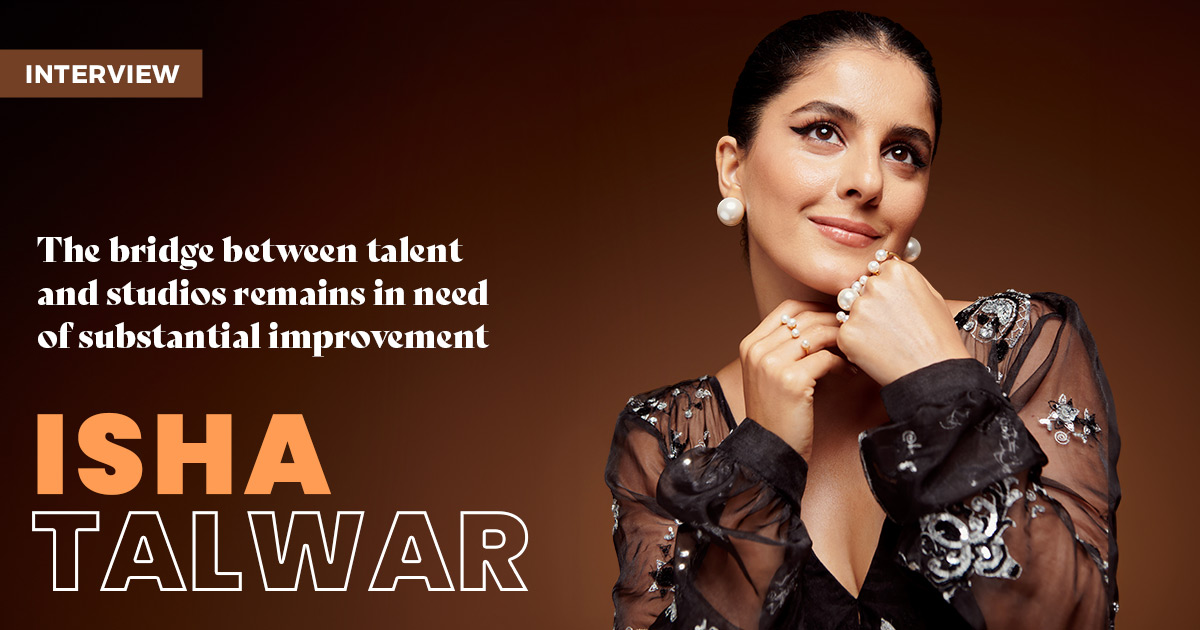 From being a Tollywood screen sensation to lighting up the OTT realm, Isha Talwar's acting prowess has truly captured the hearts of millions! Join us in Talentown Magazine for an exclusive rendezvous with Isha as we unveil her incredible journey and some delightful anecdotes from her off-screen adventures. It's a merry and marvellous tale you won't want to miss!
As an actor, you've worked in various channels of entertainment. How do you approach these two mediums differently, and what do you enjoy most about each of them?
I have worked in feature films and shows on OTT platforms like Amazon and Hotstar. As a performer, the work that goes into portraying a character and the duration of the shoot are what matter. However, the lines between feature films and OTT are currently very blurred, which, in a way, is good because there is no division. This may eventually raise the bar for good storytelling!
What qualities do you look for in a script or a character that excites you to take on a project?
I strive to experience everything the character can before the audience does. If that connection happens while reading the script or listening to a narration, I'm all in for the role!
Can you share an instance where you had to step out of your comfort zone while portraying a character? How did you tackle the challenge, and what did you learn from the experience?
I still remember during Saas Bahu Aur Flamingo, I was the final addition to the cast, leaving me with very little time to prepare for the show. To immerse myself quickly, I decided to stay with a local family in a remote area near Jodhpur. The head of the family, the incredible Pushpa Aunty, amazed me with her relentless work ethic. From 3:00 am to 9:30 pm, she tirelessly carried out her responsibilities without ever complaining. She truly left a lasting impression on me!
Collaboration is a crucial aspect of filmmaking. Could you describe your experience working with a particularly talented ensemble or a director who brought out the best in you?
I had the privilege of being part of the Malayalam film Bangalore Days, directed by the talented Anjali Menon. It was a brief but incredibly fulfilling experience! The entire crew was highly professional and efficient, making the process smooth and enjoyable. Moreover, the film boasted a dream cast, featuring Malayalam cinema's crème de la crème. It was indeed a remarkable project!
What role or project has had the most significant impact on your personal and professional growth as an actor? How did it shape your approach to your craft?
Madhuri Yadav! It was my first opportunity to fully immerse myself in creating a character for a substantial role. When the project was released, it filled me with a sense of accomplishment and validation of my abilities as an artist. Before that role, I had never truly felt like a performer, but it broke through some of my barriers and insecurities. I can confidently say that I am now perceived in a different light, and it's a wonderful feeling!
With the rise of streaming platforms and digital content, the entertainment landscape has evolved significantly. How do you see these changes shaping the future of storytelling, and how do you adapt to these new formats?
I'm not entirely sure if the streaming space has truly "evolved" yet. We are still in the early stages of this medium. It seems like we haven't provided enough opportunities for new writers to showcase their stories from all corners of India. The connection between talented individuals and producers/studios can be a hit-or-miss situation. It's crucial to establish a system that embraces emerging talent from all areas of filmmaking, creating a welcoming environment. This, in turn, will lead to a significant shift in the industry in the long term.
Looking ahead, are there any specific genres or types of characters that you would like to explore further in your career? And why?
My career is still in its early stages, so there's much more to come! There are exciting projects like Abhimaan, Marriage Story, and Chalbaaz, where characters like double roles, dance-centric roles, stand-up comedy in films and shows, and action-packed ventures await me. I feel like I haven't even begun to explore the vast possibilities yet. The future holds endless opportunities, and I'm ready to dive in!
Can you share any details or insights about your upcoming film projects? What can audiences expect from these films, and what attracted you to these particular roles?
There's  Chamak on SonyLIV, where I portray a struggling musician. Then there's Mirzapur 3, and Indian Police Force, where I play a girl-next-door, a completely new and exciting experience for me. These projects offer fresh and diverse roles that I can't wait to bring to life!
Get ready for a sizzling session of mind-blowing revelations as we unveil Isha's secrets in a thrilling rapid-fire round!
What's your favourite genre to act in?
Family dramas.
If you could work with any actor or actress, who would it be?
Ranveer Singh.
If you were a superhero, what would be your superpower?
I would be a superwoman and my power would be to listen!
What's the weirdest or funniest audition experience you've had?
Yes, a very popular Casting director from Yashraj asked me to break down in the middle of the day in a working restaurant! I thought that was super weird!
What's the most memorable fan encounter you've had so far?
Right after my first film, Thattathin Marayathu, released in Kerala, a fan was shedding tears when I bumped into her at the airport and she just couldn't stop praising me and my work which was really a new thing for me then!
A note for the aspiring actors.
Focus on your craft, the rest will follow!