Daler Mehndi: He is bigger than The Beatles, they wrote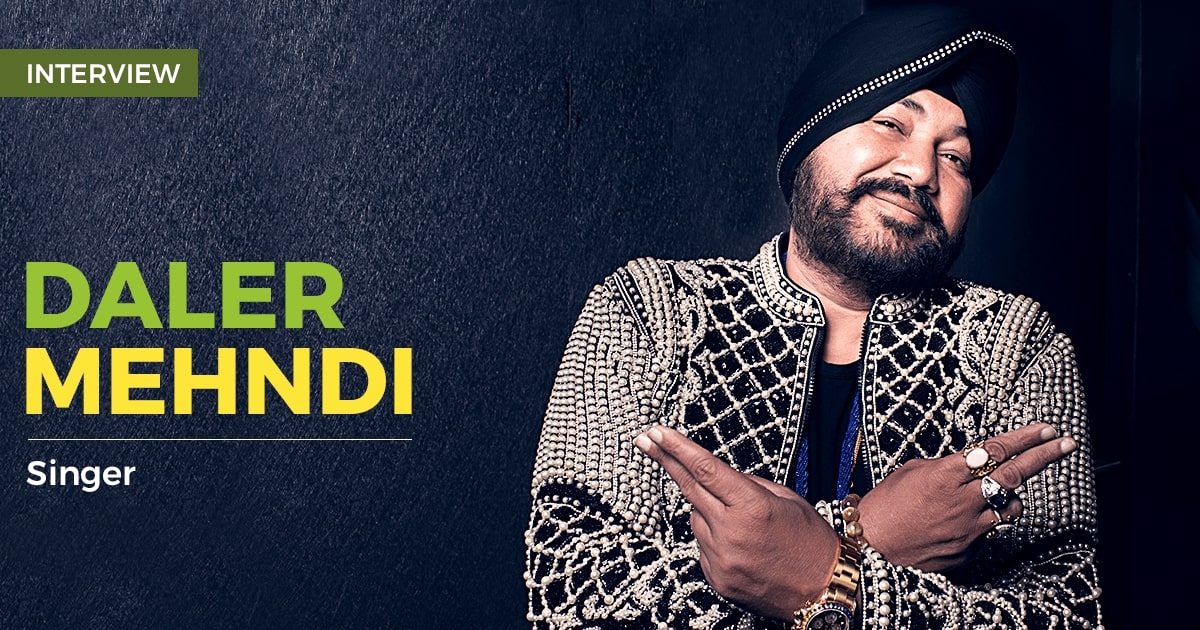 The undisputed King of Bhangra and the pioneer of Indipop, Daler Mehndi, is an epitome of entertainment. The biggest pop sensation of the 90s, Daler single-handedly put the music from Punjab on the global map that went multi-platinum instantly. Even after two decades since he stormed onto independent music scene in India, he continues to fascinate the music lovers with his depth of music and his vibrant personality. In an in-depth conversation with Talentown, Daler spoke about his lineage, music and his divine connection.
Before we jump into music, tell us a little about your awesome fashion style. You have created a very distinctive style for yourself which is instantly recognised worldwide. How did you come up with your iconic wardrobe?
Thank you for complimenting my fashion style. It comes naturally to me. When I started out in 1995, I wanted a unique look for myself which would stand out in a crowd. I knew that my turban has to be diamante-studded and I wanted to wear those long flowing Maharaja robes. My style sense has much to do with the place I was born. It was because of the strong opulent royal environment of Takht Sri Patna Sahib, the home to the King of Kings Sri Guru Gobind Singh Ji. I believe that royalty, the grandiose, the bling, my penchant for ittars, jewels, long flowing robes, I get from Guru Sahib.
Later, from Ho Jayegi Balle Balle onwards it's my wife Taran who has continuously styled me, roping in some of the finest designers like the internationally acclaimed Manish Arora to bring my ideas to fruition. It's a feeling of great pride when the world follows you and you inspire millions with both music and style. Apart from being awarded Elle magazine's 'Most Stylish Person in Music' award, one of my costumes that I wore in Madrid is showcased at the modern museum – Indian Music Experience, Bangalore.
You entered the music scene in India at a time when independent music was just taking off, in fact, you were one of the forces behind the success of independent music. How do you think your music helped the industry in the 90s?
My music helped the industry in a big way and carved a path for independent music. Before Bolo Ta Ra Ra, what worked most in the industry was devotional music and film music; regional music was restricted to the regions it was created for. I came with a mindset to rule. My brand of music helped Punjabi music big time by putting it on a global map. The USP of my music, apart from my God-gifted unique voice, is a concoction of Indian Classical music, Folk and western instrumentation. Personally, I feel it's this amazing blessed combo of voice, music, dance, style, grace of the divine and the love of my fans that works for me and leaves a mark.
You are doing a lot of work to nurture new talents. What values you aim to instill in them?
My Guru, Late Ustad Rahat Ali Khan Saheb of Gorakhpur, instilled in me, apart from a strong sense of Sur and Taal, two very profound rules:
Never touch alcohol or get into any kind of substance abuse – This was an advice from a powerhouse of talent who gave Bollywood some of his exemplary compositions as free gifts. He was exceptionally talented, a maestro born very rare, a soul drenched in Sur and also in alcohol. He had a habit of drinking a bottle of alcohol daily. I am truly indebted to his teaching and his advice.
I should never cut my hair – Those days it was the thought of every singer and actor that they'd make it big if they shorn their hair. My turban became my signature.
The melodious artists and musicians I am mentoring will be a force to reckon with when it comes to Sur and Taal. I only take those who have the fire in them and who have surrendered their lives to Music. So, no alcohol or substance abuse for those who are mentored by me. Accha Khana, Achhi Soch aur Achha Gaana ka ilm dena hai.
Is there anything about the music industry presently which you don't like and wish to change?
Use of crass words. One can be playful, witty, humorous, romantic, sensuous and can express anguish and pain, without the use of the kind of words that are used currently. We are just leading our future generations to a vibe that we won't be happy with or proud of. I am being the change and making sure my tribe walks the same path.
What made you enter the politics? Do you plan to contest election in the future?
I campaigned for Hans Raj Hans Bhaji as he was contesting from West Delhi, he is my samdhi. Future plans are focussed on Music and Farming.
What are your upcoming projects?
Immediate on my radar is a project to plant 10,000 trees this season and see them gain strength this monsoon. Apart from concerts – many Film tracks, a Sufi album and some very interesting collaborations. Will reveal when they are nearing completion.
Of all the numerous hits you have given over the years, which are your personal favorites both from private albums and film music?
Many, in fact – Bolo Ta Ra Ra, Jugni, Har Pal Tadapte Hain, Jalwa, Tunak Tunak, Deewani, Mirzya, Rang De Basanti, Dangal, Naina Tere Chambal De Luterey. Almost all the Gurbani and Sufi renditions I have sung. I embrace them all with love.
The whole world dances to Daler Mehndi's songs, which songs do you dance to?
I, too, dance to Daler Mehndi. Then, Sukhbir's Ishq Tera Tadpave, Mika's Sawan Mein Lag Gayi Aag, Malkit Bhaji's Gur Nalon Ishq Mitha and there are many more.
You have performed around the globe, share some of your most memorable tour experiences.
Live concerts are truly a blessed experience. I remember my tour of US, UK and Canada when we toured 27 cities and one journalist in Texas, after seeing my concert, wrote – He is all that, he is bigger than The Beatles. That has been a big reward for me. In London, I had restaurant owners refusing to charge me and I am not talking about Indian, Pakistani or Bangladeshi owners. In Dubai, one Armenian kid recognised me as the Tunak Tunak Man and made sure that his sister, who was the owner of the restaurant, waives off my bill. I have a big entourage, and when people do this, especially those who don't belong to your country or culture, it shows how deeply they love you. There have been many overwhelming instances, all making me bow down to the Divine for showering so much love and bounties on me.