Gaurav Gera: I wanted to do shorter content where I don't have to follow long storylines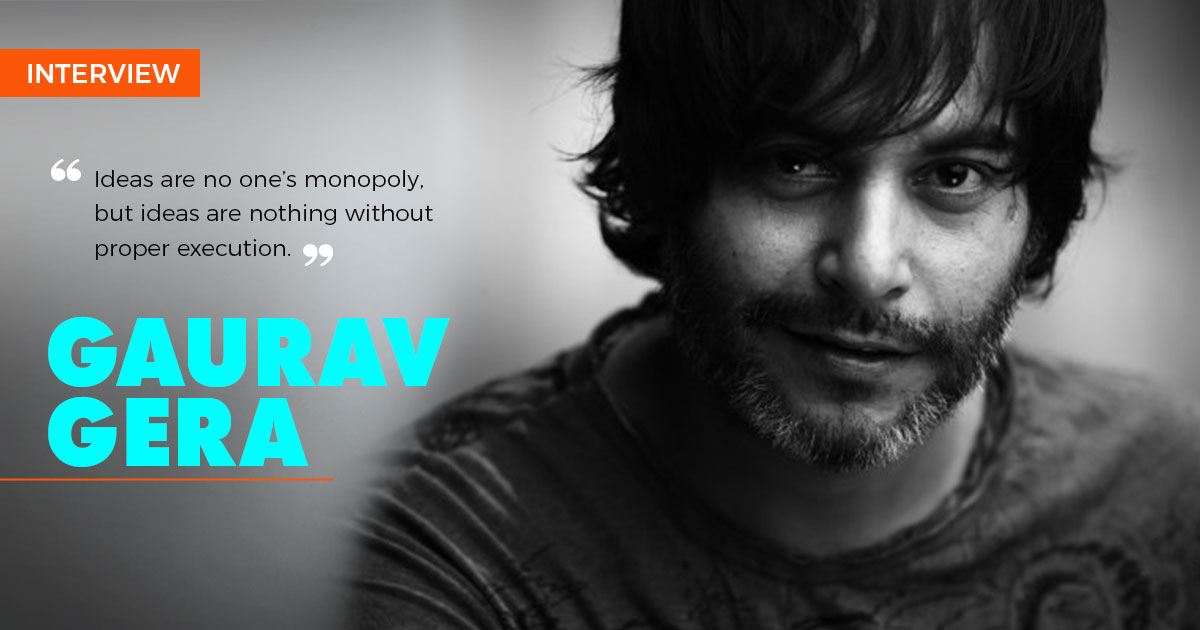 Gaurav Gera – Actor | Content Creator | YouTuber
How important Jassi Jaisi Koi Nahi (JJKN) has been for your career?
I had been doing theatre earlier and also the ad films. Jassi Jaisi Koi Nahi (JJKN) was not my first screen show, my first screen show was 3 years before JJKN but it didn't get much success. Next I did Sanskriti on Star Plus which was a moderate success, but definitely, JJKN was a turning point for me which brought me name, fame and better work. Till the time your work is a hit, people don't know what you're doing and what you're capable of.
When did you realise the potential of online platforms like YouTube?
It was back in the year 2010. I had been in the industry for around 10 years and I realised that the TV content was great but I didn't had the temperament for the kind of routine and work hours it demanded. Shooting for daily soaps was just too hectic for me and I wanted to be able to take a day off or a week off if I wished to. I wanted to do shorter content where I don't have to follow long storylines. When I started exploring YouTube, I found many international creators and teenagers doing great work and I started to follow them. Soon, I learnt editing and started creating my own content.
How the characters Chutki & Shopkeeper were conceived?
Chutki character was born in 2010 and I made videos for a year. Response was not great, perhaps because of limited Internet penetration at that time, videos got around 3K-4K views. It was not where I wanted them to be so I took a break and went back to doing theatre. I went to Gurgaon and got engaged with a musical play for 11 months. After coming back in 2015, I started creating Chutki & Suyash who are the Girlfriend and Boyfriend. After few months, I realised the limitations of the characters as both came from the same educational background and spoke the same language. I needed to add a gender difference and a social class difference so I introduced the 'shopkeeper' who doesn't have the fancy education like Chutki. The formula was an overnight hit and went viral.
How many characters have you created so far? They all are random or somehow related to each other?
Now, I have a family of around 30 characters and they are all well established. Story wise it's one big family. Chutki & Shopkeeper is one family, Billi Mausi is another family but they overlap and are related to each other in some manner. There are hints in my videos and the regular followers know all those character associations very well.
Tell us about your process. Do you have a team or you work solo?
I do everything on my own, right from creating the story to shooting the video to final editing & uploading. I don't have a team. Sometimes my viewers write in with suggestions so I do pick ideas at times but not much. I am the sole blame-taker and credit-taker for my work.
What's the story of Snapchat's cat lens which you wanted to be brought back?
Snapchat had a very cool cat lens, and though they keep rotating the lenses, I thought it was going to stay. I spent months on building the characters around that lens but one day suddenly the lens vanished. I started requesting my fans to tweet about it, write to Snapchat and appeal to bring the lens back. A lot of people did tweet about it and finally the lens came back. Also, Snapchat got in touch with me saying that I had great traffic and what Snapchat could do for me. They said that they would verify my account. At that time, there were very few verified accounts in India. They verified me and also gave me special lenses, so now I have some fixed lenses which are only there on my wall.
Are you collaborating with any other online platforms?
I am in direct touch with Snapchat and Facebook but not with YouTube. I don't think I am a YouTuber actually, I am a content creator and I publish my content everywhere. I do upload content on YouTube and it has great audience.
Are there any new characters taking shape in your creative brain? What are you working on currently?
No, I have signed a few projects outside my own videos. I think I have given a lot of time to my videos and I need to rediscover myself. I have signed a web series for an OTT platform,  a TV project, and another project for Internet which will not be created by me.
Films and TV still rule or the digital platforms have finally taken over? What's your opinion on the matter?
I have been saying this for a long time now that tomorrow there could be a teenager who is a superstar living in your building but you won't know about it because you are not on a particular app. Like right now, there are kids in Gurgaon or Nagpur or very far off places who are really followed in large numbers. These are the new kind of stars and other kids want to be just like them. They are like celebrities who are paid for promotions and so they don't need to move to Mumbai and don't need to chase the directors and producers. Not everyone wants to be and actor, they want to be famous. Now the avenues are widespread. Today, chefs are stars, singers are stars. Thanks to Internet, now you can discover and follow the kind of people you like. Like I follow people who are great painters or animators. You can do whatever you like and fiction is not the only choice anymore. There are people who want to learn about plants or stars, like my mom has joined almost every gardening group on Facebook. She doesn't spend much time on TV or movies, she is happy with what she wants to learn. Internet is a place where you can learn too. So all platforms are going to co-exist. There is going to be a superstar from a movie, then the next day there could be a superstar from an app.
What advice would you give to a talented individual starting out as a content creator?
Ideas are no one's monopoly but ideas are nothing without proper execution. Very few people are able to stick to a concept and bring it to fruition. Again, sometimes people can belittle the efforts by saying things like TikTok is just lip syncing but it does take efforts to create that content. Same goes with my Chutki & Shopkeeper videos, it's the content that keeps it going.