Jim Sarbh: A Rocket Boy Soaring High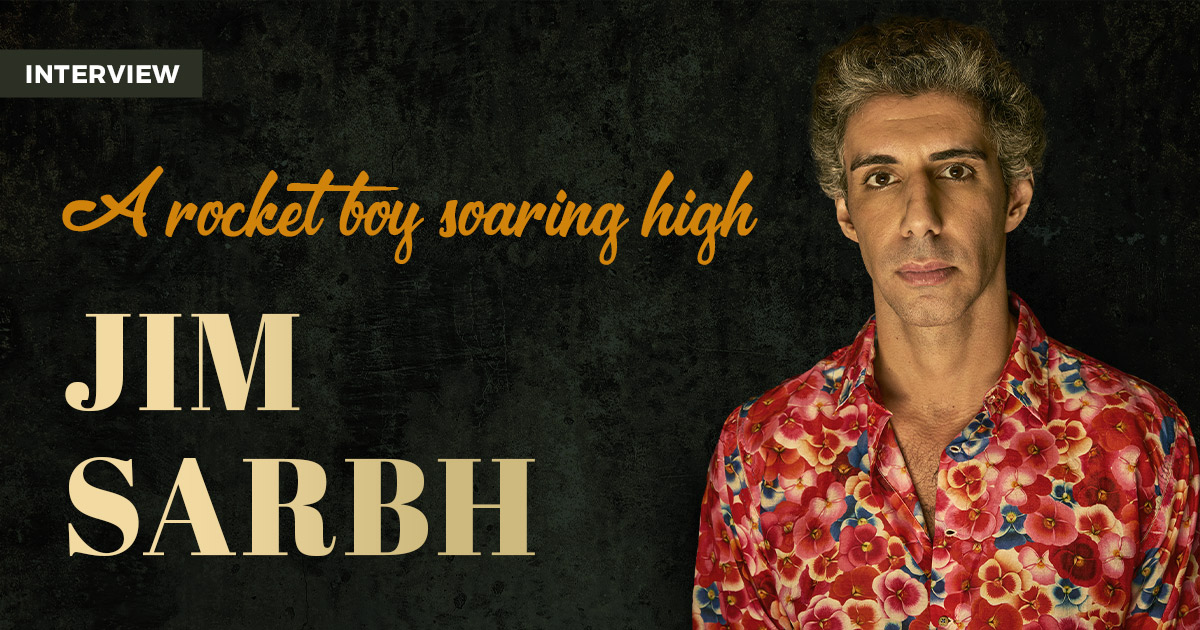 We recently had the pleasure of interviewing the talented actor Jim Sarbh. Known for his dynamic performances on stage and screen, Sarbh has quickly become a rising star in the Indian film industry. With a background in theatre and a natural flair for acting, he has captivated audiences with his portrayal of complex characters and has received critical acclaim for his work. In this exclusive interview, we sat down with Jim Sarbh to discuss his journey into acting, his creative process, and his upcoming projects. Read on to gain insight into the mind of one of India's most promising actors.
You started out as a theatre artist and made a name for yourself, how do you remember your theatre days now?
Well, I still hope to be a part of the theatre, so I don't consider it the long lost past. The last play I acted in was, in fact, filmed because we were mid-pandemic – we still are, in a way, but it was definitely more dire then. The play was Sea Wall by Simon Stephens, directed by Bruce Guthrie, and shot at the NCPA. The play is absolutely gorgeous, heartbreaking and hopeful simultaneously, overflowing with the poetry of everyday language, taut and lean without a wasted word, and full of complicated, conflicted memories and emotions. We hope to do more shows of it. The year before that, we did a run of Constellations by Nick Payne, a writer who coincidentally deeply respects and considers Simon Stephens one of his inspirations. I suppose that was my last foray in front of a live audience.
I always appreciate theatre because of the rehearsal process and the live feedback, the surfing of the audience. Learning how to approach a scene from a more experienced director, watching another actor arrive at his or her performance through trial and error, or having the freedom to play around with the blocking and the flavour of the scene to experience what you might learn from these new experiments, or being reminded that an actors job is not to think, but to act, or the endurance that a two-hour production involves, or the training theatre gives you to think on your feet, because, on the final day, you'll have to get through the play no matter what happens. To be able to really listen and allow what you're hearing to affect you, without missing your cue, adding extra pauses, or self-indulging, but being a conductor, open, open to being affected, and open to affecting.
Tell us about your experience playing the legendary Homi J. Bhabha in Rocket Boys.
The marvellous fullness of Homi Bhabha's life and the extraordinary range of his activities and achievements can be understood in the light of what amounted to his philosophy of life, as he expressed it, in a letter to one of his closest friends:
'I know quite clearly what I want out of life. Life and my emotions are the only things I am conscious of. I love the consciousness of life and I want as much of it as I can get. But the span of one's life is limited. What comes after death no one knows. Nor do I care. Since, therefore, I cannot increase the content of life by increasing its duration, I will increase it by increasing its intensity. Art, music, poetry and everything else that I do have this one purpose- increasing the intensity of my consciousness and life.'
I wish to follow in his footsteps, as best as I can.
You have an impressive filmography, which do you consider your favourite roles in movies?
Every character is memorable in their own way. Khalil, you always remember your first, for his simmering danger. Malik Kafur's pride, seduction and devotion, Brian's innocence, Natraj's uncertainty and insecurity, Deepesh's selfish scheming, Robert's care and honesty, Aadil's confusion and compensation, Keki's transformation, Rohan's doggedness, loyalty, and emotional maturity, Jimmy's street smarts and swagger, Homi's quality of interest, self-belief, expertise, tirelessness, humour, and charm, Fezi's delicate admiration and selflessness, and Wiz's snarky delivery of truth and lies.
What are you working on currently? Which are your upcoming releases?
Currently I am prepping for things, reading script offers, and books that are to be optioned.
Upcoming releases are Made in Heaven season 2, another Amazon Prime show season 3 – the cast yet to be announced, a film with Emmay Productions that is yet to be announced, and Rocket Boys season 2.