Meet Radio Ke Aadi-Manav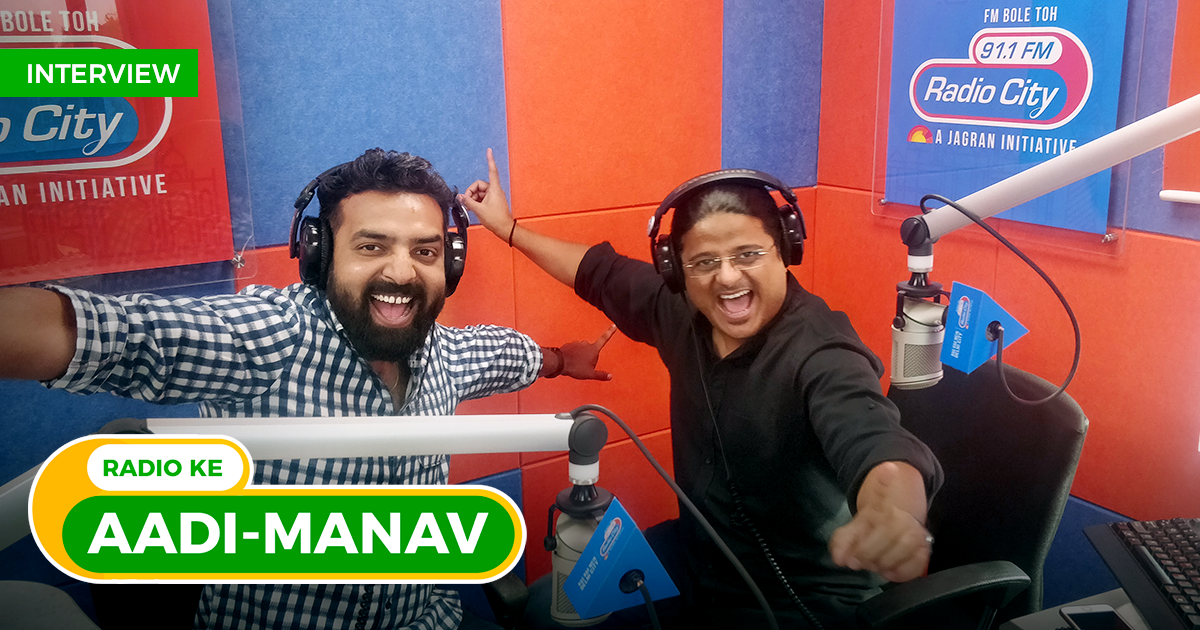 "Prime Minister Narendra Modi has chosen radio for his Mann Ki Baat to address the people of the nation, it proves the dominance of radio over any other visual medium," Manav of the famous RJ duo Aadi-Manav on Radio City 91.1 FM declares with a big smile on his face. "Radio is still the most credible medium. People believe what they hear from an RJ while TV channels are often dismissed as favouring a particular political party," Aadi adds, as we begin the interview at network's Delhi station.
Theatre of the Mind is a combination of techniques, ability, style and tools used by the radio performers to evoke vivid imagery in the minds of listeners. "The other day, we talked about a polling booth in Ladakh located at an altitude of approximately 14,000 feet. When you hear this information, you start creating a picture in your mind, your own memories of the place also help you imagine the scene," Manav explains how listeners engage with a voice on radio. Aadi points out the key differentiator when it comes to this medium. "Radio is the only two-way medium, people can speak with us directly on our number and can give feedback. RJs wield considerable influence as radio is a very local medium and we are talking about our own city. When we talk about local issues, it finds direct connect with our audience."
Interview is interrupted for a few seconds as Aadi & Manav receive a signal to go on-air with the traffic updates. Delhi traffic can be a mess at peak hours, causing hours of frustration for commuters, but Aadi & Manav try to lighten up the mood of the listeners. "Who's this guy, going on making all these new roads?" asks Aadi in jest. "I know this guy, I love this guy!" responds Manav before they silence the mic and turn their attention back to us.
Aadi & Manav have taken keen interest in the design of their studio and everything inside the soundproof blue-orange-themed space is suited to their taste, where they spend more than four hours every evening and speak to an audience of millions. "This is something we do every day so the biggest challenge is to keep the content fresh and relevant. We may be in any mood but as soon as the mic is switched on, we are different persons." Manav shares how an RJ has to remain unfazed by his emotional state. Ask Aadi & Manav about the sources of their content and you get a sense of how everyday experiences from streets, markets and public transports make their way to the listeners through their anecdotes. Aadi has been with the station for a decade now while Manav has been around for six years, and the journey, as they say, has been full of amusing moments.
"The most memorable moment for me was to receive a call from my dad one day when I was on-air and him saying that I was doing good and he was proud of me." Aadi shared how he was pleasantly surprised to receive the call, given the nature of traditional father-son relationship in Indian families where fathers are not very vocal about their feelings, let alone confessing their love on national radio. For Manav, the most memorable moment was coming together of the duo and the origin of Radio Ke Aadi-Manav (It was Aadi's idea, we were told).
"IPL guys should really rethink how they go about toss," Manav breaks away for a quick score update. "I have advised them already, it should make their life much easier!" Aadi plays along. "But no one's paying heed it appears!" Manav quips. As we wrap up the interview, we ask Aadi & Manav to share what it takes to be a successful RJ. "There is a misconception that RJs talk a lot. In fact, an RJ has to be intelligent and extremely sensitive about what they say. You have to be alert about the selection of your words, content and tone all the time. So many people want to be RJ but there are only a handful of RJs in all radio stations in Delhi. An aspirant has to first read, watch, learn to absorb information and learn to think differently, mastering technical aspects would be the easier part." That was the combined experience of 18 years in radio business speaking.
"Hum Hain Radio Ke Aadi-Manav, Aur Ye Gaana Thodi Hi Der Me Aapke Liye, Rag Rag Mein… Dilli City." It's 9 PM by the studio clock when we step out of the station, voices of Aadi & Manav filling the reception area.