Neeti Mohan: If you encourage people, they can do wonders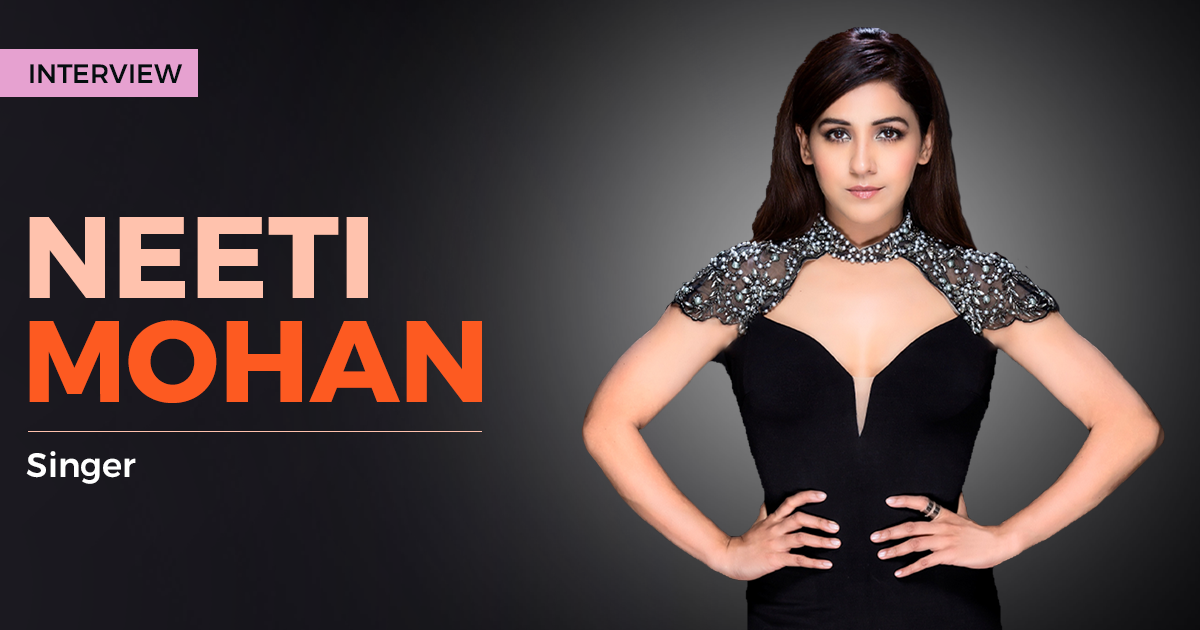 Playback Singer & Reality Show judge, Neeti Mohan started her musical journey from Channel V's talent show, Popstars, and went on to become one of the most recognised voices in Bollywood. Talentown caught up with Neeti for a quick chat, here are the excerpts:
How did you acquire interest in Music?
It was very natural as I always felt drawn towards performing arts right from the beginning. Be it school, college or family functions, I would always find myself surrounded with Music.
How did you get into Channel V's reality show 'Popstars'? What was the experience like?
Popstars was one of the first reality shows in India. I remember standing in a line in Delhi for the auditions, going through several rounds, going to Mumbai, clearing final and ultimately getting selected. It was a long and overwhelming procedure, and becoming a popular band in the country overnight was quite an experience for us. My friends and family were pleasantly surprised. It was the kind of stardom we only heard of but never experienced, so it was truly a dream come true.
Tell us about your bonding with the other contestants on the show.
There were mixed feelings. We became friends on the sets and it was comforting, but there was serious competition and performance anxieties. You know you have to give your best otherwise you can be thrown out of the competition. I quite clearly remember the experience, and it really changed my life.
How did the band 'Asma' come together and why was it so short-lived?
We were four strangers who met on the show and later went on to form a band together. We also lived together for 3 years and it was the most amazing experience. We played as a band for sometime but didn't get enough opportunities to do stuff together. That was the time when pop era in India was on a decline and only film music was surviving so we had to look for individual projects. We continued doing gigs together whenever we found a chance. We are still best of the friends – I, Vasudha, Jimmy and Sangeet, we also attended each other's marriages.
What impact AR Rahman had on your career?
Rahman Sir is my guru, mentor, and someone I always look up to. He is responsible for changing my outlook towards life. I always wanted to work with him, be around him so that I can learn from him. In last 10 years, I have been a part of his band, travelled the world with him and have done more than 150 concerts which is an absolute honor. He inspires me to become a better musician and a more responsible human being. It's only because of him that I started singing in Tamil and Telugu; he believes that music holds no barriers.
'Student of the Year' was your debut in Bollywood. How a Bollywood hit was different from all the work you did before?
Playback is different because it's about a situation, and using in a way that it compliments the face of the person on the screen. I believe in trusting the music director and singing just the way director wants me to sing. For Student of the Year, I was supposed to sing in a low, husky voice and I trusted my music directors Vishal and Shekhar completely. It was my first song and it opened so many doors for me.
How was your experience with 'Bombay Velvet' performing Jazz numbers?
Jazz was not something I ever attempted before so I was very excited when I was called by Amit Trivedi to be the voice of Bombay Velvet. Amit introduced me to the world of 60s jazz. I also did workshops to learn voice modulation. I was following some singers such as Ella Fitzgerald, Nina Simone, Louies Daniel Armstrong and learning how they pronounce certain words and how they emote.
You have been a coach in 'The Voice', what is your process of judging a contestant?
I know what it feels like to stand on a stage and perform. Now when i am sitting on the other side of the table and see an artist performing, I just try to encourage them. I see that they have so many dreams in their eyes, they have come from their hometowns, sometimes their parents are with them. So many emotions are involved and this is a matter of their careers. I believe that if you encourage people, they can do wonders. I just want to do that, so that everyone can achieve their dreams.
What advice you would like to give to the aspirants of Reality Shows?
Be original, don't try to sound like someone else and just have faith in your talent.
Who all are your influences and favourite contemporary singers & music directors?
I have grown up listening to Lataji, Ashaji, Kishore Kumar, Mohmd. Rafi and Abida Parveen whom I truly admire. In contemporary singers, I love all of them because they all bring something new. I like Arijit, Harshdeep and Jonita, we are good friends too. In music directors, I have enjoyed working with AR Rahman, Vishal-Shekhar, Pritam & Salim-Sulaiman, and they all have their unique styles of working.
Tell us about your latest songs 'Kithe Reh Gaya' and 'First Class' from 'Kalank'.
My single Kithe Reh Gaya released in February this year which is a fun, wedding celebration kind of song, shot in Patiala. The song has received very good response and crossed 30M views in 2 months, which is great for an independent non-film song. I wish to do more independent songs in future. It was an honor to work with Pritam Da again on Kalank. First Class is a very peppy song and doing very well. The way Varun & Kiara have got the essence of the song and have performed, people are loving it.