Rahul Puri: Education is a very big passion of mine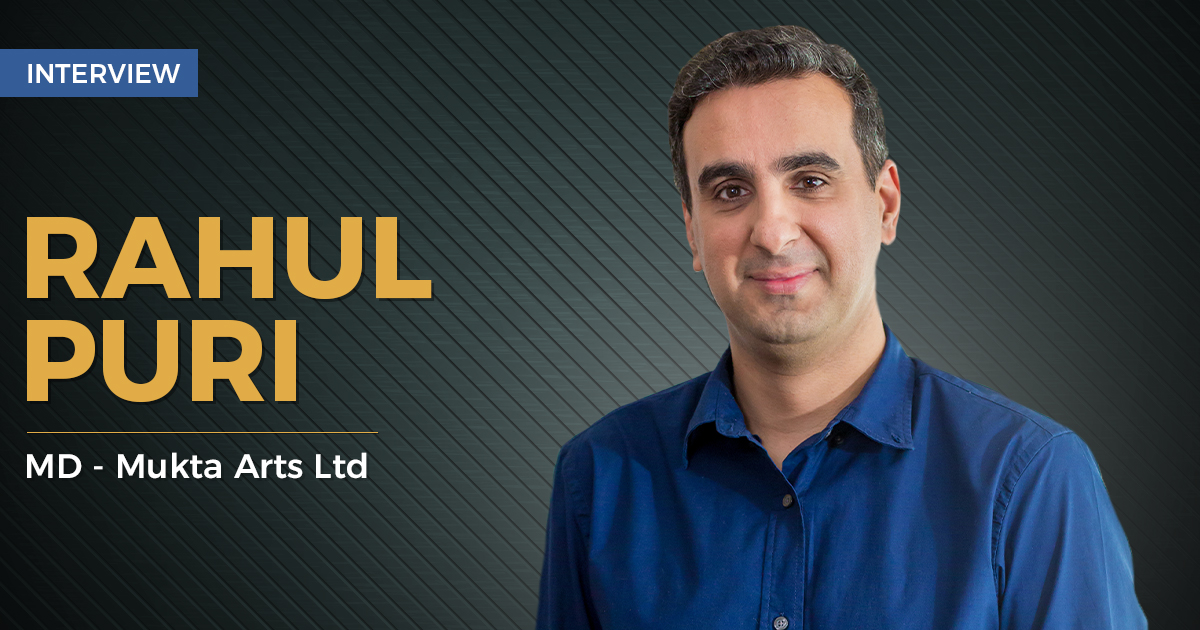 In 1976, Showman Subhash Ghai made his directorial debut with Kalicharan and two years later founded Mukta Arts – a production house that has given us some of the most loved and successful Hindi movies of all time. The first production under Mukta Arts' banner, Hero, became the greatest musical blockbuster of the time. Several major hits such as Ram Lakhan, Saudagar, Khalnayak, Pardes and Taal have been delivered by Mukta Arts over the years. Talentown caught up with Rahul Puri, the Managing Director of Mukta Arts to learn more about the company that has diversified into Education, Distribution, Exhibition and Digital.
"With Mukta A2 Cinemas we aim to provide a world-class multiplex experience at affordable prices. A journey that started with just two screens in Ahmedabad and Baroda continues with our cinemas in over 18 locations and also international presence with a 6 screen Multiplex in the Kingdom of Bahrain. All our cinemas are equipped with state-of-the-art projection systems, sound, comfortable seating and a sumptuous array of food & beverages. We are targeting to enter new markets, expand our base in existing markets and scale up to 100 screens very soon," Rahul shared the vision and progress on Mukta's exhibition business.
Born in Neath, UK, Rahul graduated from King's College, London and worked with UBS Warburg in London in corporate finance for three years. Rahul joined Mukta Arts in 2013 as VP – Finance & Strategy, and in 2014, was promoted to the position of Managing Director. Mukta Arts' education initiative, Whistling Woods International is very close to Rahul's heart and as the Head of Academics, Rahul plays an active role in the institute's operations. He is often found in classrooms taking masterclasses, conducting industry interactions or providing mentorship to the students of WWI. "A formal education, like any other field, is extremely important for the professionals in the Media & Entertainment industry which has been, for long, operating in an unstructured manner with more emphasis on talent than necessary training. We need institutions to train and prepare students for sustainable careers in Film, Media and Creative Arts, and WWI is committed to ensuring that its students are ready for rewarding employment. Education is a very big passion of mine and I am deeply involved in the academic direction of the institute," said Rahul, speaking about Mukta's ambitious multi-million dollar education initiative.
When asked about what policy-level changes he would like to see in the industry, Rahul said, "I would really like to see a one-stop-shop to get agency permissions to shoot in the country. Currently, there are numerous agencies we have to deal with to get specific permissions. It's high time we set up a film commission to centralise the complex process of acquiring licenses. This will also attract foreign filmmakers who avoid shooting in India because they are unsure how to go about it. I think this is a fairly non-controversial low-hanging goal to be set for the policy makers in India."
The guiding light of Mukta Arts, Mr. Subhash Ghai has always been an inspiration for everyone around him. "Mr. Ghai is an institution and every day is a learning experience working with him. He has got such wisdom when it comes to this industry. He has been in the industry for 45-50 years and has seen it change over time. He still stays connected and knows exactly how the modern industry functions. I have learnt so much from him, both on the business as well as creative side," Rahul shared his experience working with Mr. Ghai.
Quick-fire with Rahul Puri:
---
Last movie you watched – Avengers: Endgame
Last book you read – Bad Blood: Secrets and Lies in a Silicon Valley Startup by John Carreyrou
Last web series you watched – Delhi Crime
---