Samara Tijori: "I pretty much figured out my career on my own."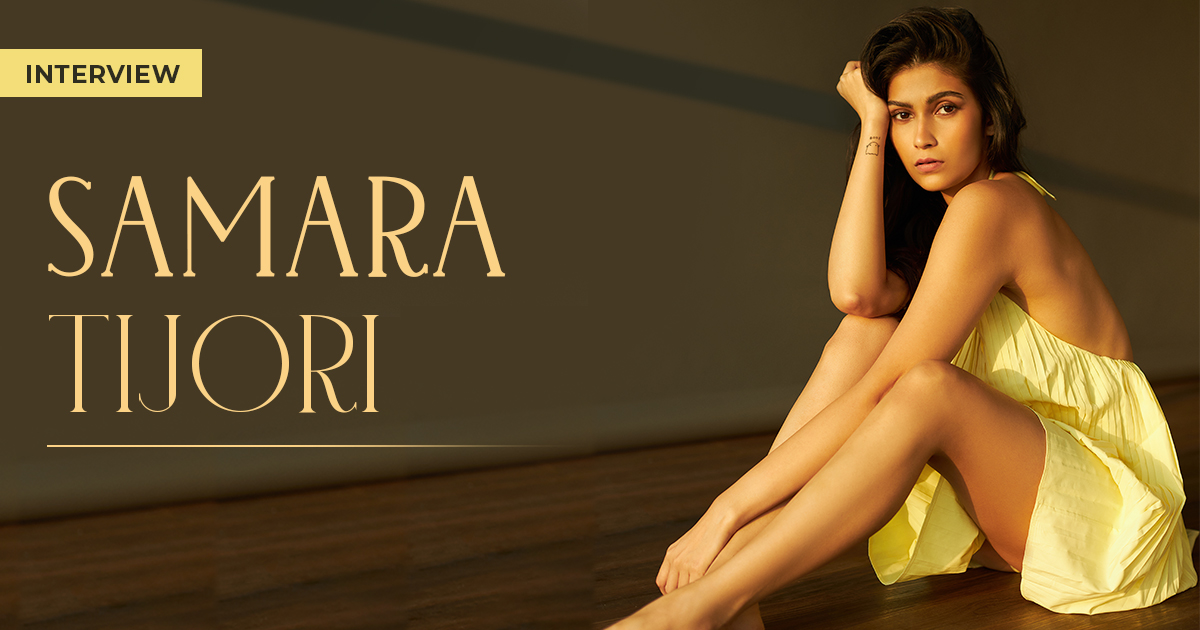 Be it Mini Biswas with Abhishek Bachchan or Sana Kapoor with Boman Irani, Samara Tijori's grand B-town entry has kept the audience wanting more. In an exclusive interview with Talentown Magazine, Samara talks about her journey so far.
Was it an easy transition from Mini Biswas to Sana Kapoor?
I won't say it was easy! Mini was very young, naive, and very callable, whereas Sana was extremely focused, not naive and very suspicious. So, it wasn't easy at all. As characters, they're very different personalities.
How is the limelight from your unmatched performance in Masoom sinking in?
Thank you, firstly! It is sinking in slowly. It didn't hit me initially when the show came out, but it's nice to know that so many people enjoyed my performance, accepted my work, and showed love for it. Moreover, a lot of people related to Sana as a character, which meant a lot to me.
Two most interesting & challenging aspects of your character as Sana Kapoor.?
There is one, in particular, that was very interesting and challenging to play. I feel like, as children, we don't understand our parents or the decisions that they have made, but when we grow up, we realise that they were also our age and have taken the same conclusion at some point in time. I understand that now, but Sana doesn't. So, I think it was challenging to put myself into that mindset.
The second one is that as a character, Sana has a lot of things and emotions in her mind at any time. I remember we had one scene where I had to be angry, shocked, surprised, disgusted, and anxious, all in a single frame, and it was a little thorny to prepare it mentally for effortless execution.
Any fun moments from the sets of Masoom?
There were many, and most of them were triggered by Boman Sir. He's the most fun person to be with on the sets, and I'm sure all the actors in the show will agree to that. I had no idea we could play games during the shoots, but Boman Sir ensured we all had a good time.
If you were to play a dream character from previous Bollywood movies, which would that be?
That's a tough one! I'd say Vidya Balan in Kahaani, Deepika Padukone's entire career trajectory, and Alia Bhatt's entire career trajectory. I'd choose all of them.
How much has being the daughter of a veteran in the industry helped you in your journey?
I wouldn't say 'helped me'. I pretty much figured out my career on my own because dad took a break from his acting career and took a back seat, and when I decided to become an actor, I did it my way. I worked as an assistant director, worked in events like IIFA and then I went on to take professional acting training & auditions and paved the way myself.
Of course, I take advice from him when I speak to him regarding work, but I won't say that I got this career opportunity because of my father.
Any key life lessons that you've learned from your father's acting journey?
A lot of patience! The fact that he would keep going and do what he wants to do, irrespective of the pressure on him is something that makes a lot of difference because it enables you to do what you enjoy doing, not something that you are bound to do.
After a brief exchange of questions & answers, it's time for a rapid-fire!
Kill – Kiss – Marry
a. Shahrukh Khan
b. Saif Ali Khan
c. Salman Khan
I will not kill anyone, but I will marry Shahrukh Khan!
What's your guilty pleasure?
Eating Nutella straight out of the jar!
One of the most embarrassing moments on the sets.
Once I was extremely hungry while shooting, and everybody who had the headphones on could listen to my stomach rumbling. They asked if I would like to eat something after the take. The moment of confrontation was very embarrassing.
Your favourite movie of your father.
I have multiple, Jo Jeeta Wohi Sikandar, Kabhi Haan Kabhi Naa, and Sadak.
What's that one role that you've always dreamt of playing?
Zendaya in Euphoria, and Gangubai.
While closing the session, Samara shared a quick tip for aspiring actors – Be patient. it will take time but believe in yourself, because if you don't, then no one will.